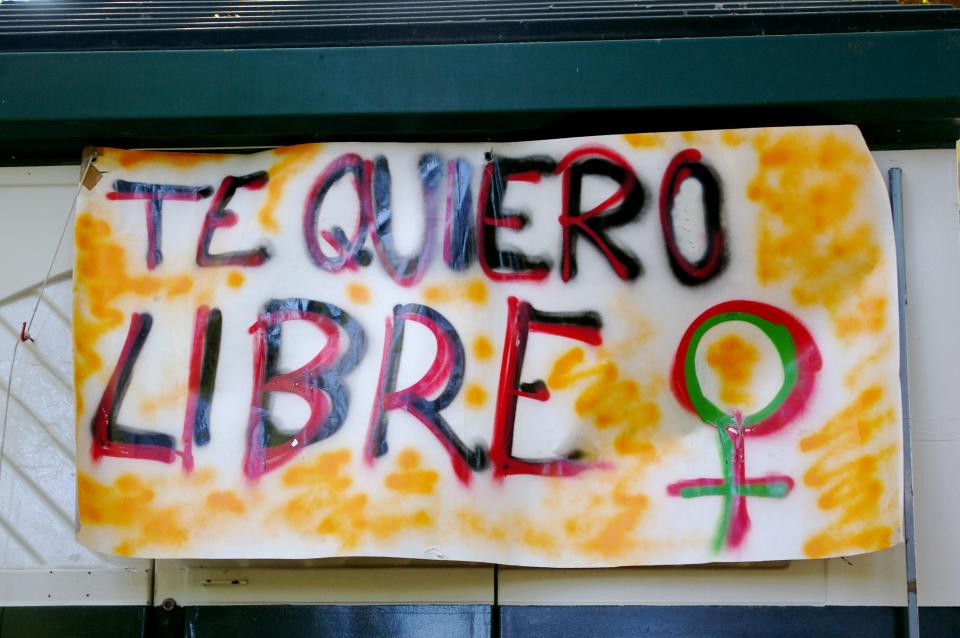 Accessing information on the internet about abortion services and reproductive health empowers women and girls! In many situations, the internet is the only means to access critical information on fundamental rights and freedoms and the right to health. The borderless nature of the internet means it can serve as a safe place for women to ask questions, to seek crucial information about abortion services, to connect with other women living similar situations and receive support from organisations working on the issue.
Information on abortion services via the internet is important because:


It protects the health of women and girls against unsafe abortion practices




It brings to light restrictive policies and practices on gender equality and health, as well as challenges patriarchal spaces of dominance within the society and on the internet




It places women and girls in a position of power concerning their rights to abortion services




It diffuses ownership and limits the power of global and local networks that restrict women's right to abortions




It allows women and girls to make educated decisions based on their reproductive needs and economic responsibilities




It promotes collectiveness, solidarity, openness and partnership between women and girls, as well as between organisations advocating for abortion rights




It offers an alternative discourse to the anti-choice doctrine; it amplifies diverse narratives on women's lived realities




It provides a space for communication and exchange of ideas in an otherwise restrictive cultural climate.


On September 09, 2014, State actors, UN agencies and non-governmental organisations came together for the 27th session of the UN Human Rights Council entitled Abortion Stigma, Criminalization and Restrictive Laws and Policies: Breaking the cycle to realize women's and girls' rights. It commemorated the 2014 Global Action for the Decriminalisation of Abortion and challenges the illegal and restrictive effects of laws and policies against abortion. It highlighted the different barriers and challenges faced by women and girls to access safe information on abortion services. In particular, it brought to light how attacks on freedom to access information restrict women's and girls' capacity to make decisions and to control their reproductive health and futures.
International and regional human rights bodies, as well as courts worldwide have recognised that all prenatal care provided to pregnant women must conform to existing women's human rights (1). The right to control one's body clearly applies to all women and girls and the right to a safe abortion is nowhere prohibited by international law. Restrictive access to information on abortion services is often linked with moral, cultural and religious norms that aim at controlling society. For additional information on the International human rights law and its application to abortion rights, please consult the reference document published by the Center for Reproductive Rights.
Internet sites that provide information on abortion services fundamentally challenge rigid and conservative social constructions that intend to control women's and girls' bodies. Social and cultural taboos surrounding abortion and the right to life of the unborn child make information concerning safe abortions unavailable, and if it is, it is often skewed towards discouragement. The internet provides alternative means to challenge restrictive gender inequalities and stereotypes concerning the right to have control over one owns sexuality. Ultimately, it allows women and girls to make choices that best reflect their needs and those of their families to reproductive health.
Too often, protectionist gender norms are used as a pretext to mobilize state and non-state actors to restrict access to the internet, and to control and eliminate content that is viewed as contrary to traditional values, particularly related to the family and women's health. Content censorship of abortion related sites significantly limits women's and girls' ability to exercise their rights. It reduces their capacity to be active agents of change and discourages woman in position of leadership and decision-making authorities.
Rebecca Gomperts, executive director of Women on Waves, illustrates how abortion access is often met with illegal censorship. She speaks of a professional experience that happened on Facebook. Her profile picture was removed because it contained a message on how to perform a safe abortion at home. She then reposted the censored message with the picture and asked other users to repost the image; it was removed for the second time. Gomperts was blocked from using her account for two days. After receiving inquiries by journalists, Facebook's administration sent an email apologizing and acknowledging that the picture did not violate any regulations.
Consequently, abortion rights activists note that the internet has both positive and negative consequences on their work. On one hand, the internet provides an effective space to communicate with women on their rights. However, the internet can also be a tool to promote targeted forms of violence and harassment against activists. A global survey conducted by Association for Progressive Communications in 2013 entitled: Sex, rights and the internet: Survey on internet regulation and sexual rights highlighted this issue. Women Human Rights Defenders (WHRDs) working on sexual rights, including reproductive health rights, LGBT rights, access to safe abortion, sexual violence and rape, and sex education are considered to be particularly vulnerable to violence through the internet. The survey stressed that 99% of activists saw the internet as a crucial tool for advancing their human rights work. And yet, 51% of activists surveyed reported receiving violent or threatening messages online, including cases of intimidation (34%); blocking and filtering (33%); or censorship (29%). This resulted in 27% of them discontinuing the work they were doing online.
Virtual attacks are tools of violence against organisations working on abortion rights. For example, the Latin America and Caribbean Women's Health Network's website was hacked and disabled immediately following the launch of several abortion rights campaign activities. This example mirrors the findings of the UN Special Rapporteur on the situation of Human Rights Defenders. It stresses the ongoing risk of harassment, discrimination, stigma, criminalisation and physical violence of WHRDs working in the promotion and protection of sexual and reproductive rights.
Particular attention must also be given to the accumulation of private information on the internet that could be used to violate women's and girls' rights to privacy in accessing reproductive health. As early as 2000, Target began analysing the shopping habits of pregnant women in order to offer coupons and other shopping incentives before the arrival of the baby. Target used the same data collection to analyse the shopping habits of teenage girls. Based on their findings, they concluded that a frequent customer was pregnant. They began sending coupons to her house advertising pregnancy-related items. As it turns out, the girl was pregnant but had not told her parents. Target knew before the parents and ultimately informed them of her pregnancy. This consequently violated her right to privacy and reproductive health as well as reduced her choices.
In these changing times, feminist principles that support a "hands off my sexual rights on the internet" perspective have become increasingly instrumental to the support, promotion and protection of women's and girls' rights.
These principles include:
- The essential role of the internet in enabling access to critical information including conversations on health and access to abortion services
- Promoting the right to privacy for a safer, open internet for all
- Monitoring and prohibiting violent and harassment practices by individuals, the State, the private sector and non-state actors. This is particularly important when assuring the safety and security of women and girls in need of information and referrals on abortion services.
- The right to access all personal data online and to exercise control over its content, including being able to delete it forever. When appropriate and when not in violation of women's reproductive rights to privacy, these rights must be balanced against the right to access public information, transparency and accountability.
These principles are firmly rooted in the perspective that a feminist internet is an extension, reflection and continuation of the feminist movement. Sites that offer resistance to the systemic domination of women's and girls' right to access abortion services in public and private spaces are crucial.
Protecting reproductive rights, especially accessing information on safe abortion through the internet remains at the forefront of women's and girls' rights. We often ask ourselves what I can do. Where do I start?
There are many ways to contribute to this movement:


You can join in the conversation and share your perspectives on how accessing safe information on reproductive rights and abortions affects you;




You can support organisations that promote safe spaces of women and girls on the internet through volunteering or donation; and




You can advocate for change in restrictive laws, policies and practices to government that limits women's and girls' rights to free and safe information on the internet.


Image by gaelx used under Creative Commons license
More information on the Women´s Global Network for Reproductive Rights website