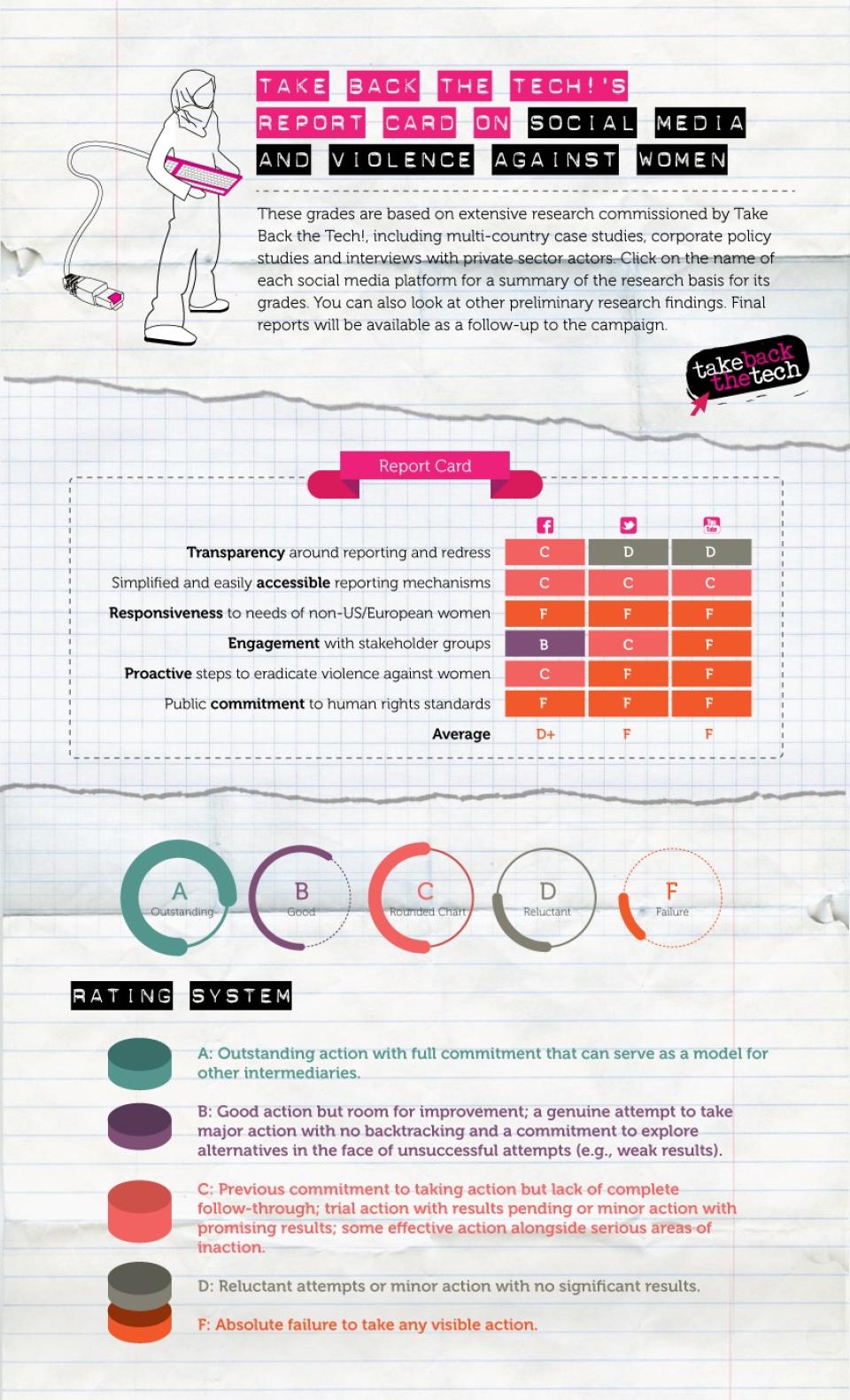 On 21 July, Take Back the Tech! began a campaign demanding to know what Facebook, Twitter and YouTube are doing about violence against women on their sites. Our primary goal is to get them to take a clear stand on violence against women in their terms of service and engage with diverse civil society to find solutions for safer platforms.
Women use social networking sites more often than men, but these sites have failed to fully respond to the concerns of their women users. In more than 4,000 cases of cyberstalking reported to Halt Online Abuse since 2000, 70% of victims were female. Presently, 82% of social media violence against women reported on Take Back the Tech!'s map happened on one of the big three sites – Facebook, Twitter or YouTube – with Facebook alone accountable for half.
APC commissioned research that reveals that these companies fail women users, especially those outside of North America and Europe, and that they need to be more transparent: we don't know who responds to reports and how they are trained, and we haven't seen data on reporting demographics and success.
Take Back the Tech! used this research to create a report card that grades Facebook, Twitter and YouTube on issues such as transparency around reporting and redress, engagement with stakeholder groups and public commitment to human rights standards. The report card ignited media interest, with the Washington Post, Time, Fortune, O Globo, Yahoo France, the New Indian Express and more covering the campaign.
Additionally, APC staff handed out copies of the report card at the 2014 Internet Governance Forum in Istanbul, where they also presented our evolving set of Feminist Principles for the Internet and spoke about the importance of intermediary responsibility and human rights compliance. IGF participants raved about the report card's timely appearance and clear points, with several organisations committing to learning more about gender in digital spaces.
Take Back the Tech!'s private sector campaign is ongoing, and we ask that campaigners take action in the following ways:
Ask: "What are you doing about violence against women?" Request more information from these companies using #WhatAreYouDoingAboutVAW.
Rate: Use our simple rating survey to grade these sites based on your own experiences. We'll compile and share the results with you and with them.
Share: Have a story about your own experience? Let us know! Tweet, film and blog your stories. Add them anonymously to our map of tech-related violence against women.
Demand: Tell these companies what you want. Share your solutions. Use #WhatAreYouDoingAboutVAW, and we'll send them crowdsourced ideas they can put into practice.
These companies like to talk about free speech, somehow failing to to see that online violence against women is a free speech issue. Violence aims to silence us and push us out of online spaces, but we can work together to develop solutions that promote our rights to freedom of expression and freedom from violence.
Find more information and digital content in the campaign kit on Take Back the Tech!'s homepage, use #WhatAreYouDoingAboutVAW and follow @takebackthetech for the continuing conversation. Let us know about your actions by writing info@takebackthetech.net. Demand that social media take a clear stand. Take back the tech!