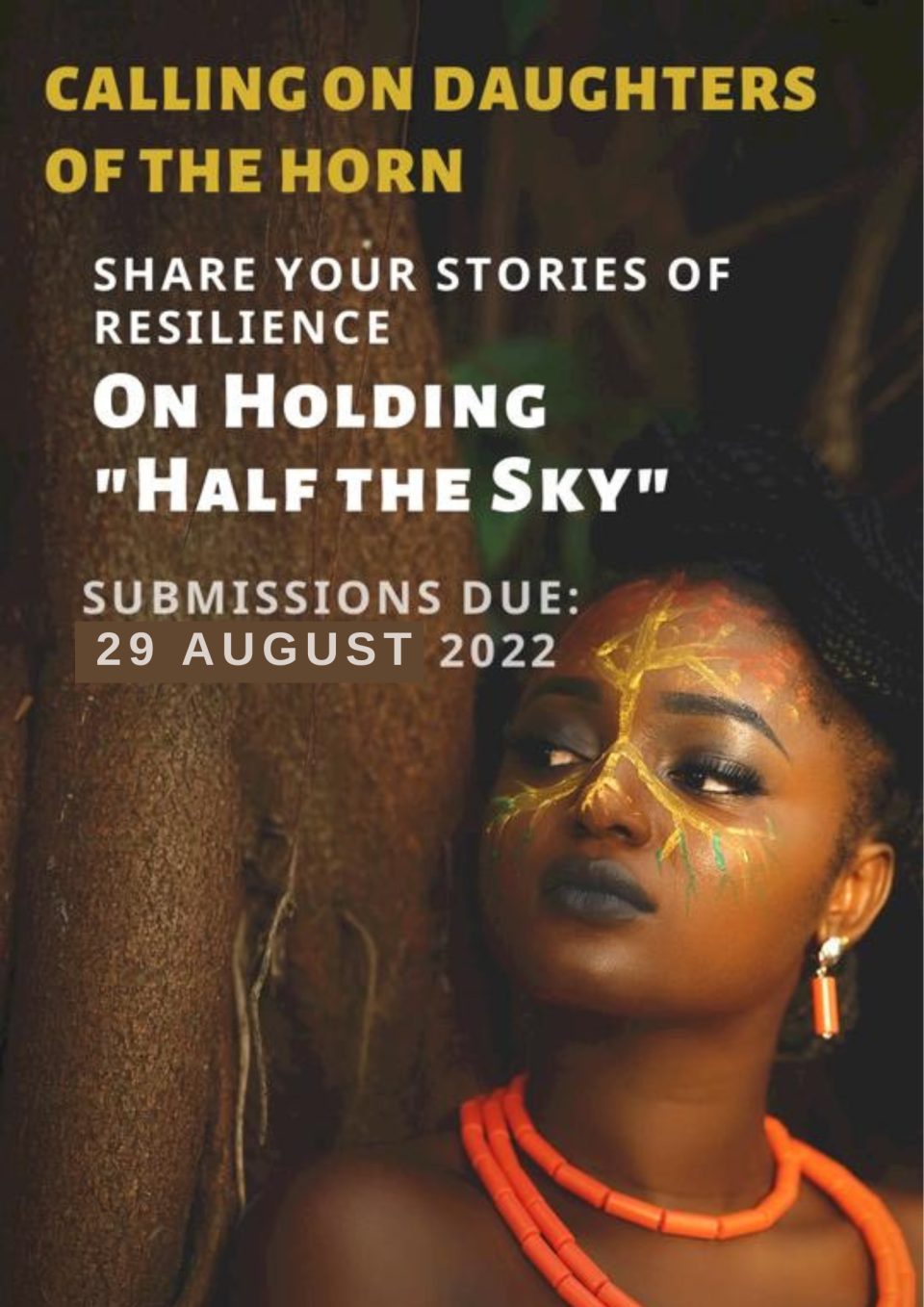 On Holding "Half the Sky": Stories of ResiliencE
Background
The Horn of Africa (the Horn) is a home to  ancient civilisations and the trace of humankind origins. It is a home of multiple ethnic groups, nations and nationalities; and has a beautiful landscape, people, music, and traditions. Today, the Horn is unfortunately also primarily known for its political instability and fragile state formations that continue to threaten and endanger its citizens - and more particularly women. In different time periods of the Horn's history, we have witnessed resistance movements that have impacted the political trajectory of countries such as Somalia, Kenya, Sudan, South Sudan, Eritrea and Ethiopia. To that end women as daughters of the Horn have transcended resistance and today invoke every spirit of resilience this continent and indeed the world has known. To every mispackaged media kit littered in biassed coverage are endless stories of resilience weaved together in the chants, cries and ululation of women in and out of the Horn calling in our collective liberation.
To our dismay, the region continues to be in a constant struggle with reshaping and more recently audaciously reimagining political systems that have a belligerent impact on the everyday lives of people on the ground. Here, we would like to mention that, beyond the historically popularised and instrumentalised movement narratives, we have witnessed everyday people, everyday protests and narratives that have influenced and moved the centre into opening up to non-elite actors. Indeed, we are witnessing the redefinition of all things from centre to elite and beyond. This has become even more possible due to the growing access to multiple social media platforms that have helped accelerate both scope and reach of mobilisation and campaigns through digital activism in a way that is beyond the control of governments. This is often met with surveillance, mass arrest, and internet shutdown. The case of internet shutdowns in Ethiopia and Sudan can be a good example here.
Women in the Horn continue to play a critical role in the political and economical development of their respective countries yet their contributions are unrelentingly unrecognised. The main reason behind this historical erasure and invisibilisation of women's role emerges from the fact that women are never considered as political subjects nor were/are they given equal access to public spaces to lead and participate in the complexity of countries politics. Such deliberate or unintentional restrictions of women from the public space makes it difficult for them to become visible and challenge the system. It is in this complexity that we see courageous women coming forward with strategies of resistance and leading communities to revolution. Here, Sudan is a good example. In other contexts, especially where there is war and conflict women use their voice and advocacy to the plights of women as a result of these conflicts and use social media to share stories the political chaos, while at the same time producing inspiring and powerful stories of resistance, resilience, survival, life, beauty, solidarity, community, femininity and ultimately, humanity.
We have started this conversation in 2021 in response to a much needed healing space for sporadically and divinely connected Daughters of the Horn at the 65th UN Commission on the Status of Women. Our clearest outcome was that, contrary to widespread belief, we are not voiceless. We have been and continue to be silenced by a global system designed to shackle women. We've recognized that despite our different fields, backgrounds, languages, taste in food, music or form of resistance we each have a story, without which the rest of ours are rendered incomplete. We have acknowledged that the questions we ask connect us far more than the answers we seek. In this call for submission, we invite you to join us as we continue on this journey.
We invite activists, actionists, academic, para-academic, creative writers, and artists who are located or identify as belonging to the Horn to participate in this edition and tell their own stories from their own perspective(s). Allow yourself and all of us a glimpse into your journey past, present or future. Share what you will, rant and vent where you need and if nothing else reimagine a future for us all, especially those of us too caught in the trauma of superimposed borders, both physical and mental or for whatever reason remain incapable of imagining a future of dignity.
THEMES
We have no interest in telling you what to write about or how to tell your story. We are interested in your story. At this volatile time in the Horn, people from our families, neighbourhoods, countries, region, continent and the rest of the world are imposing narratives upon us. Acknowledging all good and best intentions of people asking our opinion or stance or even state of being given the "difficult times" in our respective countries, we recognize and reject the erasure of everything else our countries and people are and represent. Our resilience, like the clouds in "the other half of the sky" carries what our people hold within and not say, all they are and do not show, all they can be and don't even know.
This is a first step to reclaiming our stories not just how but why we tell them. Below are some thematic offerings from us that  we hope to explore as we continue on this journey. Feel free to be inspired by them, and equally free to inspire us with whatever truth you choose to share.
On Shrinking civic spaces and Resilience 
In dictatorial states that control access to civic spaces, public discussion, and mourning, how do you find a way to cultivate spaces that provide hope and determination to move past the violence exerted by the state, and ethnic based conflicts in the Horn of Africa. What are your personal or collective recipes for resilience?

On cultivating holistic healing space and energies 
How do we heal from intergenerational trauma and work to cultivate holistic healing space for women ? What are your personal or collective practices of healing? These can be expressed through music, creative art works, food stories, and many other practices that connect individuals to hearty moments that bring energy of perseverance.

On Digital Activism: Can main-street media Emergent term on how social media is becoming Main Street media counteracting mainstream and commercial narratives virtually erase borders and all the barriers between?

On censorship and challenges around freedom of expression
Governments increasingly are making rules and regulations to censor and limit citizens freedom of expression; how does this impacts movement building and organising.

On shutting down the internet and silencing voices
Almost all countries, in different historical time periods, in the Horn have experienced internet shutdown during a national outrage; what is the impact of these and what are the creative ways in which activists find a way to continue their advocacy

On reclaiming our Spirituality: Lame in the name of society, shame in the name of religion
More and more women are seeking refuge online to discuss spirituality to ground themselves and try to make sense of what surrounds them and tapping into their power. These conversations are highly tabooed in our societies and often used to shame young women exploring spirituality and power.

On navigating grief : Digital technology, political violence and war
The war and conflict in most of the countries in the Horn are increasingly intensified through the use of diverse types of digital technology; all information, misinformation, disinformation about our people are being recorded online, how do we navigate through the inhumane atrocities, misrepresentations, and grief.

On bearing witness: Digital activism and embodied experiences of trauma
Often we forget that behind the advocacy against war and state violence, there is a human subject that continuously records and reports crime against humanity, what is the embodied experience of these individuals and collectives?
About submissions
GenderIT.org carry blogs, podcasts, videos, essays, interviews and webcomics  on internet  policy and cultures from a feminist and intersectional perspective, privileging voices and expressions from the Global South - the majority world.
Those who are interested can send abstracts and/or ideas for:
Writings (2000 – 2500 words)
Videos (maximum of 8 – 10 mins)
Photo essays (maximum of 3 photos)
Comics or illustrations (maximum of 3 – 4 page/panel)
Audio recordings/podcasts (maximum of 10 - 15 mins)
Please see some tips and style for writings here: http://writers.wiki.apc.org/index.php/How_to_write_for_GenderIT.org
You can work on your own, collaborate with others or we can matchmake you (for example a writer and an illustrator). All work selected will be compensated by The Association for Progressive Communication (APC).
Send your ideas to: dimah.mahmoud@gmail.com and Tigist@apcwomen.org with subject "stories of resilience"
We will be glad to read your ideas and give you feedback and guidelines for the writing process. You can choose to publish under your name or a pseudonym. We can't ensure that all proposals will be published, because that depends on our limited budget.
The deadline for submitting your ideas is 29 August 2022.
We hope to announce and hold an introductory discussion with selected contributors during Africa Week 24-30 SEPTEMBER 2022