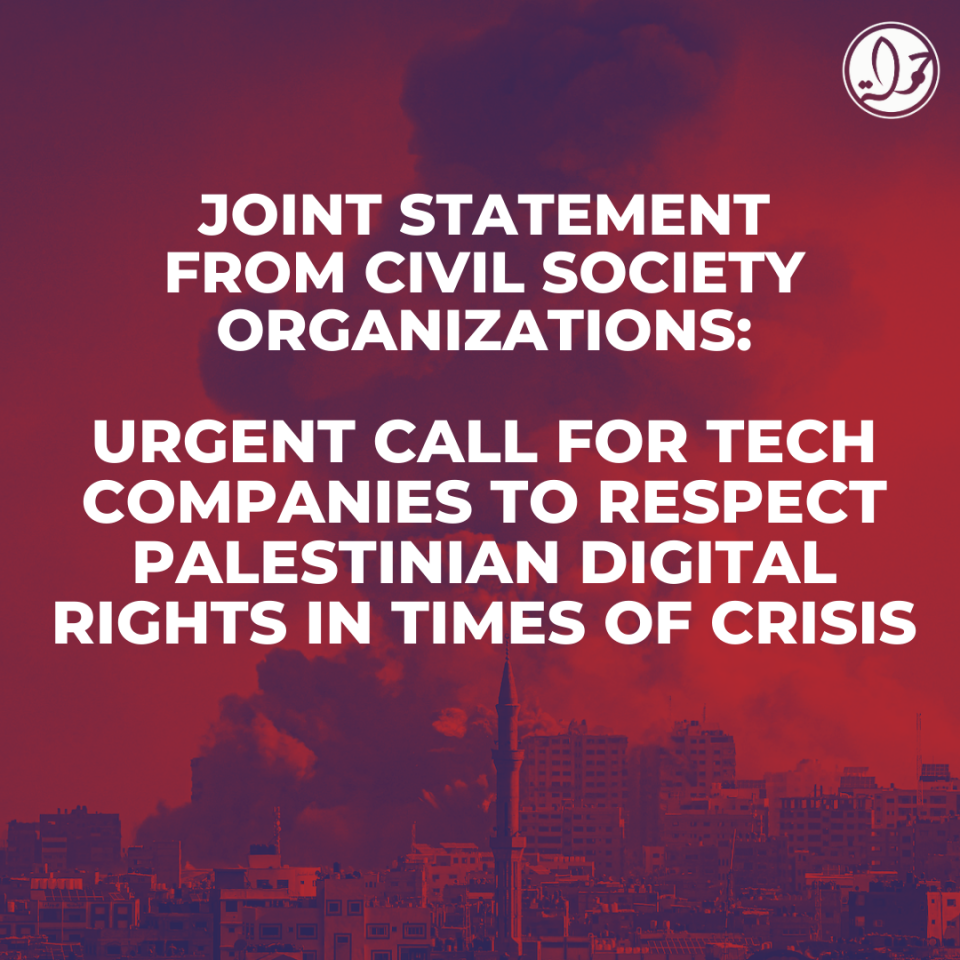 Originally published on 7amleh.org here.
We, a collective of human rights and civil society organizations, urge tech companies to immediately take strict measures to protect their users from harm in light of the escalating events in the region. These events have inevitably led to increased discrimination against Palestinian content and a rise in anti-Palestinian racism across various online platforms, and demonstrate the critical link between the digital realm and the reality on the ground. 
Between October 7th and 11th, 7amleh - The Arab Center for the Advancement of Social Media documented 19,000 violent tweets out of 23,000 Hebrew tweets on the 'X' platform. This violent content included, but was not limited to, incitement, hate speech, and racism against Palestinians. On the other hand, different social media platforms are flooded with disinformation and misinformation, contributing to the labeling, dehumanization and stereotyping of Palestinians. Moreover, some Israeli official pages are praising violence and justifying attacks against civilians. 
Therefore, we stand united today in calling on tech companies to urgently address instances of online hate speech, incitement and violent discourse targeting Palestinians, mainly in Hebrew. Incitement to violence against Palestinians and calls for collective punishment are spreading rampantly across online platforms, especially on X and Telegram. Human rights abuses and calls for attacks are oftentimes encouraged by high-ranking Israeli officials. This incitement transcends the virtual realm and has fatal consequences. 
Additionally, companies need to take decisive and immediate action against alarming levels of disinformation and misinformation that have been widely disseminated over the past week across online platforms, both on social media and messaging apps. This false and inaccurate information actively poses a grave risk to the narrative around the events on the ground.
Social media companies must ensure the respect and protection of Palestinian voices on their platforms, just as they should for every citizen worldwide, especially those who document human rights violations. We are also concerned about significant and disproportionate censorship of Palestinian voices through content takedowns and hiding hashtags, amongst other violations. These restrictions on activists, civil society and human rights defenders represent a grave threat to freedom of expression and access to information, freedom of assembly, and political participation. This censorship is also affecting journalists' ability to  work and resulting in a chilling effect. It is imperative that companies urgently address this censorship and genuinely commit to ensuring that all voices are heard. 
People in global majority countries, including the region, view social media platforms as a critical civic space to share their untold stories in mainstream media. Therefore, social media platforms must acknowledge their vital role in the region by becoming more inclusive and implementing protective measures for their users. Ensuring that social media platforms are free from discrimination will significantly contribute to a more comprehensive understanding of the context of events on the ground. This commitment will reinforce their mission to provide safe digital platforms that amplify the voices of all.
We call upon tech companies to recognize their crucial role and responsibility in the region, and to adhere to business and human rights principles as well as international human rights laws in safeguarding freedom of expression. More particularly, tech companies should refrain from being actively involved in the ongoing silencing and atrocities committed against the Palestinian people. Our collective responsibility as civil society organizations and human rights organizations is to stand against hate speech, incitement, disinformation, and any other tech harm to people around the world.  
Co-Signed,
7amleh - The Arab Center for the Advancement of Social Media
PAX For Peace
Jewish Voice for Peace (JVP)
International Media Support 
ARTICLE 19: Global Campaign for Free Expression 
The Palestine Institute for Public Diplomacy (PIPD)
Association for Progressive Communications
European Legal Support Center (ELSC)
SMEX 
Access Now
Bloggers of Zambia (BloggersZM)
Open Knowledge Foundation
Digital Action
Al Mezan Center for Human Rights 
The Palestinian Initiative for the Promotion of Global Dialogue and Democracy - MIFTAH
Al-Haq 
Bisan Center for Research and Development 
INSM Foundation for Digital Rights 
Women's Centre for Legal Aid and Counseling (WCLAC)
National Students for Justice in Palestine (NSJP) 
American Muslims for Palestine (AMP)
Americans for Justice in Palestine Action (AJP Action)
Institute for Middle East Understanding (IMEU)
Kandoo
Adalah Legal Center for Arab Minority Rights
MPower Change 
Adalah Justice Project
NOVACT Institute for Nonviolence
The Palestinian Center for Development and Media Freedoms (MADA)
Visualizing Palestine
Maharat Foundation 
US Campaign for Palestinian Rights 
WHAT TO FIX 
Eticas
Mnemonic
Association Belgo-Palestinienne
Masaar - Technology and Law Community
AfroLeadership
Uplift, Ireland
Forces of Renewal Southeast Asia
Free Rohingya Coalition
Red Dot Foundation
Hope and Courage Collective, Ireland
Tech Justice Law Project
Makan
Myanmar Internet Project
Global Witness
ECCP - European Coordination of Committees and Association for Palestine 
Annir Initiative 
Palestine Legal
UAWC - Union of Agricultural Work Committies
Global Voices
Forum for Secular Bangladesh and Trial of War Criminals of 1971
ACRE - The Action Center for Race and the Economy
IFEX
Sharek Youth Forum
AFIC - Africa Freedom of Information Centre
TEDIC
Point of View