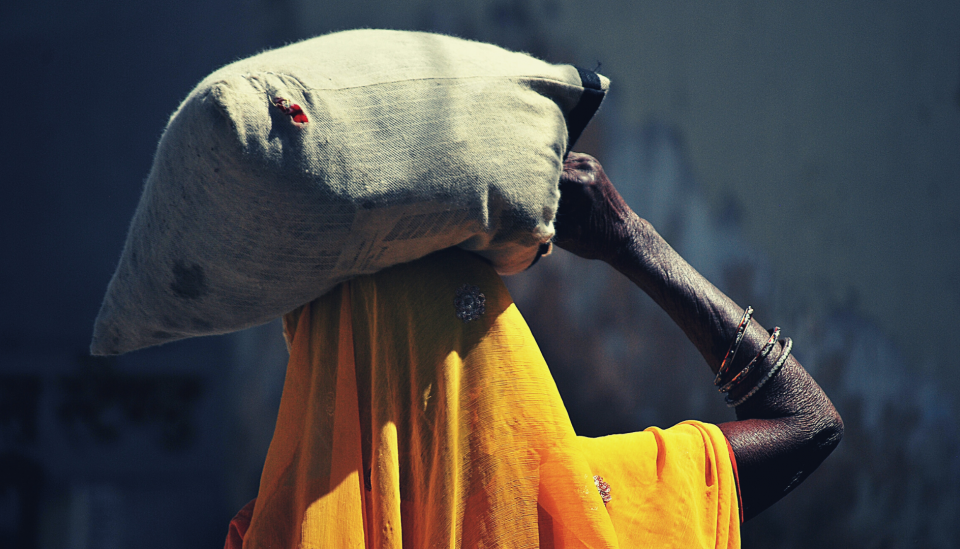 Sarada Ahari, a 35-year-old woman from Dungarpur district in Rajasthan, India, travelled over 800 km to Jantar Mantar, New Delhi's bona-fide protest site that began on February 13, 2023. Like hundreds of her fellow workers, she had gathered for a 100-day protest to demand the rollback of crippling new changes to India's flagship employment programme, the Mahatma Gandhi National Rural Employment Guarantee Act (MGNREGA), which promises at least 100 days of guaranteed employment in a financial year to every rural household. The workers ended the protest on April 23 owing to logistical challenges that they incurred.
She has been supporting her family of five on her own with a daily wage of just 231 Indian Rupees, or approximately 2.8 USD a day (the wages vary across states). But in January 2023, India's central government has unfurled two broad impediments to workers receiving their wages; the first, an app-based online attendance system that makes tall demands of poor workers with impaired access to technology; and the second, a payment system that relies on Aadhaar – a government ID, instead of the perfectly functional and no less effective previous mechanism of just banking details. 
"We really wish the government would resolve our problems with MGNREGA, especially about our paltry wages and delayed payments," said Sarada, referring to the two sweeping modifications. "But they just decided to make everything worse," she said as she sat along with the protesting workers from her state. With a week-long roster system of sorts, workers from different states had been gathering for the protest in India's capital city, New Delhi, since February 13. 
For nearly eight crore rural women like Sarada, MGNREGA is a crucial safety net that prioritises women in the workforce. Government data showed that women accounted for 56.62% of the 14.18 crore workers that availed employment under the Act last year. In fact, the majority of the MGNREGA workforce has been women for at least the last five years.
Online attendance
Earlier, a worksite supervisor or 'mate', as referred to by workers, deployed by the local gram panchayat (village council) used to mark attendance for the workers directly onto muster rolls – physical lists of workers' details.
For nearly eight crore rural women like Sarada, MGNREGA is a crucial safety net that prioritises women in the workforce.
After the two new changes in MGNREGA, Sarada shared that the attendance marking protocols have been changed. 
In March 2022, the Union Ministry of Rural Development (MoRD) mandated that workers' attendance be marked only on the National Mobile Monitoring Software (NMMS) App from January 1, 2023. Workers and mates allege that this has caused all-round mayhem.
For the online app-based attendance system to work, the mate has to download the app on a smartphone with Android 10 or above, log in with credentials shared by the gram panchayat, download the muster roll of the panchayat (council), and then mark workers' attendance by ticking the names of the workers present, click and properly upload geo-tagged photos and then repeat the entire process at the end of the day when the work is done. 
Sarada said workers are losing out on their wages because their attendance cannot be marked due to some 'server issues'. She said, "We are poor workers living from hand to mouth. Do they think we even know what a server is?"
The app was introduced with the express idea that it would ensure greater transparency and allow for more accurate monitoring of attendance and productivity of workers. But activists and workers disagree. 
Mukesh Nirvashit, an activist associated with the Mazdoor Kisan Shakti Sangathan – a people's organisation involved with rural workers and farmers in Rajasthan, raised critical questions about this idea, and asked, "How is this system more transparent? Will it ever be possible to have human resources to check lakhs and crores of these photos being uploaded for MGNREGA attendance every single day?"
Bypassing System
Some workers have found unique ways to bypass the convoluted system. One of these methods is popularly known among workers as a "photo session."
Pushpa Chauhan, a 20-year-old social worker with the Rajasthan Ansangathit Mazdoor Union, a union of informal and unorganised workers, said, "You see, men find it easier to trick the system now. They often have their own private vehicles. So, they arrive at the worksite twice a day for the photo sessions, mark their attendance, and just leave."
She added, "Random photos are being uploaded. In our village, I have seen photo sessions be conducted with different permutations and combinations. The same women take photos with their ghoonghat (veil) on, then with their ghoonghat off, while the men turn up in different shirts - all this to inflate the actual number of workers and trick the system."
Another worker said that unlike women, it is easier for men to turn up at the exact allotted time for photo sessions for online attendance because they do not have to take care of household responsibilities like women do.
For others, the system has meant going unpaid for months.
Surekha Naika, a MGNREGA worker from Belagavi in Karnataka has not been paid since the app was introduced. She asked, "Is it my fault that there is no network in the forest area where I live and work?" MGNREGA mates in her area are often seen running around the worksite raising their phones up in the air, struggling for network connectivity. 
According to the India Inequality Report 2022, only 70%  of  India's  population  has  poor  or  no  connectivity  to  digital  services. Only 31% of the rural population has any access  to  internet  services. And, despite the increasing number of internet subscribers in India, the quality and speed of internet connection still remains highly questionable.
It is easier for men to turn up at the exact allotted time for photo sessions for online attendance because they do not have to take care of household responsibilities like women do.
Savitri Das has been working as a MGNREGA mate in Surguja, Chhattisgarh, for about four years. The online attendance system has fractured the cordial relationships workers and mates shared, she said. "When workers find out later that they won't get paid for their work, sometimes they think mates have pocketed the amount or deliberately ensured their loss of payment."
Challenges in Reporting
Even for people who are tasked with audits in MGNREGA, the digitisation of attendance has proved to be a challenge. 
Kamla Kharadi has been doing this job for about three years now in Dungarpur, Rajasthan. "We knew how to do physical verifications – we are familiar with files and physical visits to worksites, but we do not know how to grapple with these apps and digital files now. This is complicated, and we are not equipped to do all this."
Another challenge, Kamla said, is that the app offers no confirmation if the attendance request has been accepted and if a worker will, consequently, get paid. "The worker only finds out about all this chaos if, and when, she receives the payment," she said.
Redressal can be harrowing and most often leads nowhere.
"What happens when she finds that she did not get wages for all her work days? She runs to the bank and she is told to check with the mate. She runs to the mate and she is told about all this server or network issue. She goes to the block officers and she is told to go to the bank. It is a vicious merciless cycle to trap the poor worker," Kamla explained. 
A social worker from Adivasi Adhikar Sangathan in Manendragarh-Chirmiri-Bharatpur, Chhattisgarh, said, "This mandatory online attendance is discriminatory towards women. It is as if the government is afraid of our participation in the workforce."
Mukesh, the activist with Mazdoor Kisan Shakti Sangathan, suggested, "It is not as if workers are opposed to the idea of technology itself. But, for that, the government must get a foolproof system going, have discussions with stakeholders, do proper pilot-testing, implement learnings, and then bring it into MGNREGA."
Yet, it turns out, the central government admitted in March 2023 that it had piloted the NMMS after just one field visit to one district in Rajasthan.
Aadhaar-based payment system
Marking attendance is just one challenge for workers. Receiving wages after being marked "present" is another ball-game entirely.
In January this year, the Ministry of Rural Development (MoRD) also told state governments that all payments to MGNREGA workers would be mandatorily made through the Aadhaar-Based Payment System (ABPS) alone.
This mandatory online attendance is discriminatory towards women. It is as if the government is afraid of our participation in the workforce.
Earlier, workers used to avail 'account-based' payments – a simple bank transfer. With ABPS, the workers' Aadhaar number functions as their financial address and money is sent to their last-linked bank account. For the ABPS to work and receive payments, the worker's Aadhaar number must be seeded to her MGNREGA job card, linked to her bank account, and has to be connected to the National Payments Corporation of India (NPCI) mapper which has stringent Know Your Customer (KYC) requirements.
Workers and activists allege that the process is even more complicated than it sounds. "A single error in any of these steps means the payment will be rejected, or worse, the Aadhaar card will be labelled as 'inactive'," said Kamla. The worker will then have to run from pillar to post trying to understand what needs to be fixed, and then figure out the where and how. 
In fact, by the Government's own admission, up until March this year, only 47% of all MGNREGA workers were eligible for ABPS. 
On the request of states, the central government has decided to allow both modes of payments available for MGNREGA workers until the end of June 2023 and then move to just ABPS alone. 
However, Siraj Datta, an activist from Jharkhand finds this timeline to be "just a typical eyewash by the ministry" because "workers who are not ABPS-enabled continue to be denied work and wages." He said, "The payment system should be simplified – it should be bank-account based instead of Aadhaar based, and the funds should be decentralised to the Gram Panchayats without unnecessary technological barriers."
Bal Kunwar, an MGNREGA worker from Korea district in Chhattisgarh, said a woman in her village did not get paid for her work days because she had apparently not completed her KYC process with the bank. "Like all other workers, she had done her KYC earlier. But because of ABPS, workers are being asked to do KYC all over again," she said and added that it is not easy to get these things done in rural areas. "It takes multiple visits to the bank, workers have to pay for private transport, miss their work days and lose out on wages, and all this for what? Yet another new rule!" she exclaimed.
Patriarchal barriers
The problem with Aadhaar in this mix is also further complicated by errors in demographic details. 
Najri Bai, a 50-year-old MGNREGA worker from Rajsamand in Rajasthan, is facing the heat of documentation woes because she is named as 'Najri' on her Aadhaar card and 'Najri Bai' everywhere else. This mismatch has kept her from getting paid for weeks. 
Chhatra Ram, her husband, asked, "So what? She is still the same person. Why can this system not recognise her anymore?" Najri Bai is unable to link her bank account to Aadhaar number because of this discrepancy in her name, as a result of which it is not ABPS-enabled. 
Errors in demographic details listed on Aadhaar cards affect women in particular. 
Praavita, a Delhi-based lawyer associated with the Article 21 Trust – an organisation that works on issues of welfare and technology, said, "Aadhaar exacerbates existing vulnerabilities. Look how it lays bare how patriarchy functions. Not only do women have to change their names after marriage but they also have to somehow ensure that their 'new' marital name reflects in all their documents." 
It is no cakewalk to do corrections in Aadhaar either, especially in rural areas. Kamla Kharadi, a worker, said, "With offline systems, these errors and mismatches could be easily solved manually. The authorities would just check other identity documents like the ration card, see what the workers' name is, and then process it accordingly. Now, with such digital systems, there is no possibility of easing out workers' troubles with some kind of physical verification and community trust."
There are also limits to how frequently one can change their details on their Aadhaar card. Birth dates can never be changed, address and gender can be changed only once, and names can be changed only twice.
Aadhaar exacerbates existing vulnerabilities. Look how it lays bare how patriarchy functions. Not only do women have to change their names after marriage but they also have to somehow ensure that their 'new' marital name reflects in all their documents. - Praavita, Lawyer at Article 21 Trust
In 2021, Libtech – a group of engineers, social scientists, policy folks leveraging technology to improve public service delivery, studied 18 lakh MGNREGA invoices and found that contrary to the claims to make payment processes efficient, ABPS did nothing to make MGNREGA wage payments more efficient and did not help to increase transparency and accountability. It found no reason to "scientifically justify the cost of introducing ABPS in MGNREGA." On the contrary, the study found that ABPS led to other forms of last-mile corruption by middle-persons. 
"Then what does this ABPS do for workers?" asked Kamla.
Inclusion in workforce
When MGNREGA was introduced in 2005, it did something significant for women's empowerment in the country: for the first time in the history of India, there was a promise of guaranteed employment for women, with equal and fair wages. Rural women could actually step into the workforce because this employment was guaranteed within their own panchayat (council).
Kamayani Swami, a founding member and advisor of Jan Jagaran Shakti Sangathan, Bihar – a trade union of rural non-formal sector workers, said that MGNREGA also facilitated women's inclusion in the democracy in many ways. "For starters, women go to have their voices heard at the Gram Sabha (a general body of the Gram Panchayat) and participate in important decision-making on what their village needs, be it more tube wells or better roads or better irrigation channels and so on," she said. 
MGNREGA allowed women to be part of a community within the workforce. "Women then had access to a community, they became involved in unionising and collectivising. So many of them who had forgotten how to read and write actually then began afresh because they saw a purpose in it," Kamayani added.
Technology based Exclusion
Despite having access to positive developments with the introduction of MGNREGA, women formed the majority of the hundreds of protesting MGNREGA workers in Jantar Mantar in early 2023, enduring Delhi's searing summer heat because of the resulting challenges after the two newly introduced mandates. The women are most eager to speak up, voice their grievances, assert their rights, and in swearing to fight back against an oppressive regime that they say tramples workers' rights. 
Savitri said she has seen how over 300 women in her village entered the workforce because of MGNREGA. "But, this new system of digitisation and documentation has pushed women away," she said.
Kamayani added that while the government is trying to get workers to use apps and digital tools, it ignores their actual needs. "The law states that there must be a provision of water, shade, and creche at our worksites. Where is that?," she asked. Women often carry their babies to the worksite, and suffer from the lack of these provisions to make the worksite more comfortable for their wellbeing.
As many critics have pointed out, this fundamentally changes the relationship between citizens and the State. It is as if the State does not want the citizens to participate or lead a dignified life anymore.
There are not enough sanitation facilities for women in the worksites. Women lamented that it is a herculean challenge for them to find a safe and private spot for them to change their sanitary products when they are menstruating. These challenges at worksites amplify when coupled with non-payment of salaries on time that would enable them to have some sense of stability at home.
With a majority of welfare entitlements pivoting towards digitisation and documentation regimes without the understanding of on-ground realities, it not only dismantles workers' rights but also pushes the journey towards women's empowerment and gender equality by many miles. Praavita said, "As many critics have pointed out, this fundamentally changes the relationship between citizens and the State. It is as if the State does not want the citizens to participate or lead a dignified life anymore."