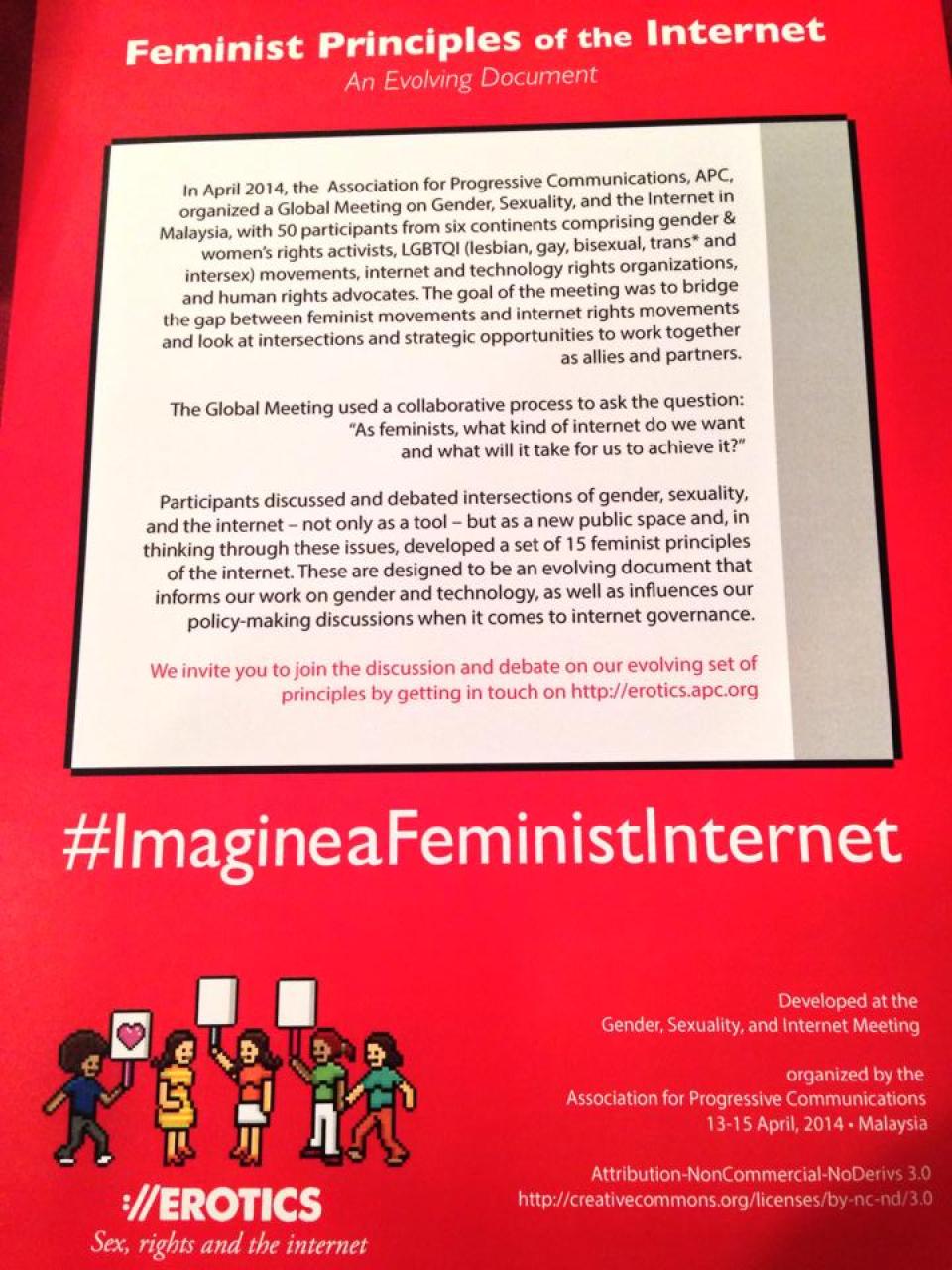 On 1 September 2014, APC launched the "Feminist Principles of the Internet" at the Sexual Rights Pre-Event of the 2014 Internet Governance Forum in Istanbul, Turkey.
The document, which invites feedback and comments from different stakeholders, comprises 15 principles that assert feminist views on positions related to internet and communication rights. "It is our inalienable right to choose, express, and experiment with our diverse sexualities on the internet. Anonymity enables this," reads Principle #12. The set of principles covers issues such as privacy and surveillance, diverse and inclusive participation in decision-making, open source technology, regulation of sexual content and online pornography.
"Our goal in launching the feminist principles is to articulate a feminist lens on internet rights, in particular where they intersect with sexuality and sexual expression," says Jac sm Kee, Women's Rights Programme manager at APC. "It is a step towards bridging the gap between feminist movements and internet rights movements to look at strategic opportunities to work together as allies and partners, as well as to provide a framework to begin discussions on how gender and internet governance issues relate to each other," she adds.
The drafting of the principles took place over six months, kick-started at a global meeting in April 2014 attended by 50 activists, academics, and technical experts from around the world. Debates in preparation for the meeting were accompanied by Twitter discussions, which can be followed with the #ImagineaFeministInternet hashtag. Hundreds participated and the hashtag garnered over 2 million views in one week.
More information and full list of principles can be found online at http://www.genderit.org/articles/feminist-principles-internet
Media contact

Nadine Moawad

Women's Rights Programme

nadine@apcwomen.org