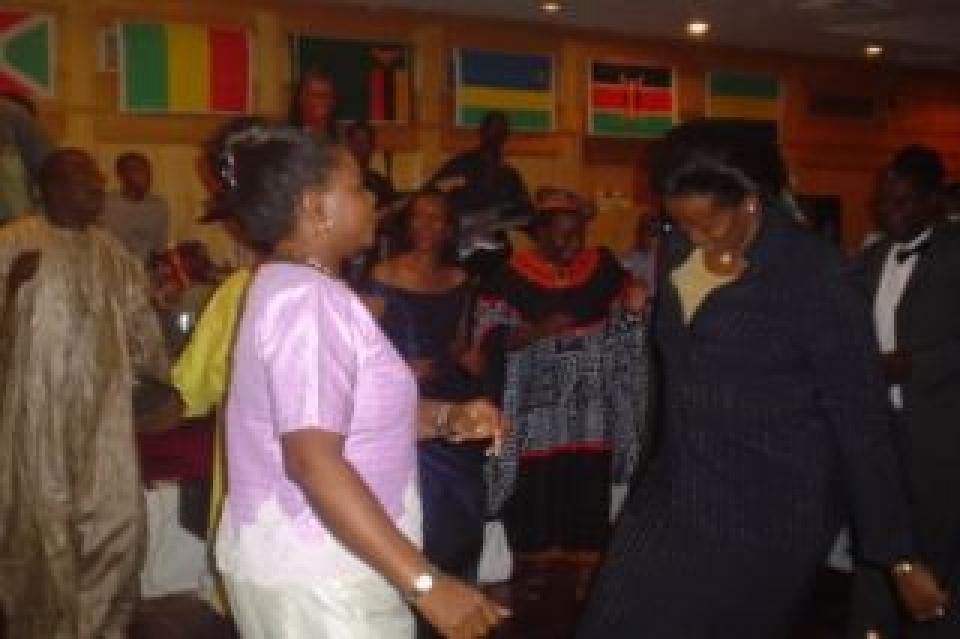 The Organisation of African First Ladies against AIDS (OAFLA) has
embraced information communication technologies (ICTs) as a tool to
advocate for social justice especially in the fight against HIV/AIDS.
Zambia's First Lady Maureen Mwanawasa and Vice Chairperson of OAFLA
said in an interview that she had sourced over 3000 computers for OAFLA
from the Prince of Wales Foundation, which would be distributed to all
OAFLA member countries using the Standard Chartered Bank.
The
one day Summit of African First Ladies opened in  Zambian capital
Lusaka on Friday May 20 th 2005 to review HIV/AIDS intervention
strategies and lobby regional governments to scale up action in the
fight against the pandemic on the continent. The government and
stakeholders from select United Nations agencies, the private sector
and civil society showcased HIV/AIDS intervention and prevention models
at the conference. The women convene under OAFLA to review the
organisation's projects to mitigate the effects of the pandemic in
communities.
The conference met under a two year theme: "Moving
from Advocacy and Compassion to Action," and brings together the First
Ladies of Mali, Uganda, Rwanda, Kenya, Gabon, Burundi, Mozambique,
Ghana and host Zambia. Only first ladies from Rwanda, Zambia and Ghana
attended the conference and the rest were represented by their country
representatives. Mrs Mwanawasa described the conference would review
the strategic plan developed and adopted by the First Ladies for
implementation at country level. "This is a review meeting, we want to
see where we're coming from, and where we are going and also see how to
translate our theme into a platform of action," said Mrs Mwanawasa.
OAFLA
seeks to increase visibility to women's health issues especially
HIV/AIDS, and placing them on national and regional development agendas
using the privileges and influence of first ladies. For 2005 the First
Ladies of OAFLA member countries would be mapping out ways of sharing
responsibilities and effective collective lobbying, fund raising and
resource mobilisation, and increase partnerships. "We also want to
encourage all member countries to have programmes running and as
individual First ladies we have to raise funding and equipment for the
organisation," Mwanawasa highlighted in the interview.



She said OAFLA members lobby collectively for any donation to the
association but all members' benefit. "For instance in Zambia alone
there are about 600 computers they remain here, 750 computers in
Botswana, 500 in Zimbabwe, which member countries will benefit from.
The computers were already on the continent through the Bank." She
commented how a lot of things could be done using ICTs depending on the
kind software developed.
Mwanawasa hoped that that the public
would benefit from these computers through establishment of Resource
Centers for HIV/AIDS, and through the creation of websites which could
be visited to help people to access new research breakthroughs, new
medicines available and other information on HIV/AIDS. She however,
noted that there were no readily available buildings were these
computers could be placed, and that the Maureen Mwanawasa Community
Initiative (MMCI) would soon start looking for buildings that could be
donated. "In Livingstone we have identified a building and approached
the city council which has since given us the building to rent. The
building is right now under renovation."
She feels that ICT's
were important for developing sectors such as education, health, and
social welfare for the people and also to create information and
knowledge societies. Mwanawasa said large populations of women in urban
and rural areas were disadvantaged due to lack of access to information
which could help improve their living standards. "I know that a lot of
women, especially those in rural areas have no access to information
and knowledge and do not therefore know what opportunities are in store
for them. As such they are left out of a lot of programmes which are
meant to benefit them." She stated information was a tool, which needed
to be properly harnessed and utilized to shape the destiny of people
especially women. "Information is power and it is important that this
is provided to the women to empower them as a way of enhancing
development in the country."
She commented that the MMCI would
like to see the digital divide in Zambia reduced and observed that ICTs
were concentrated in the urban areas and accessed only by a few people.
The urban poor and the rural populations now had to deal with this
other form of social exclusion – the digital divide, adding that
language, education and infrastructure barriers kept the poor in cities
and rural areas untouched by the information revolution. According
Mwanawasa the Poverty Reduction Strategy Paper (PRSP) had not
adequately covered this area.  Meanwhile, Mrs Kagame, said during
a press conference that the conference had recommended that they would
committee to have internet connection and renew an OAFLA web site.
-----------------

ABOUT OAFLA

The Organisation of African First Ladies against AIDS (OAFLA) is a First ladies campaign to promote effective HIV/AIDS
prevention strategies. This is the second meeting under First lady of
Rwanda and also Chairperson of OAFLA, Mrs Jeannette Kagame. OAFLA was
formed out of a United Nations Assembly Special Session in 2002 with
assistance from former United States President Bill Clinton's HIV/AIDS
Trust Fund. OAFLA is a 40 country grouping including Zambia,
Mozambique, Malawi, Ethiopia, Cote Ivories, Senegal, Gabon, Kenya,
Uganda, Ghana, Mali, Rwanda and Burundi.