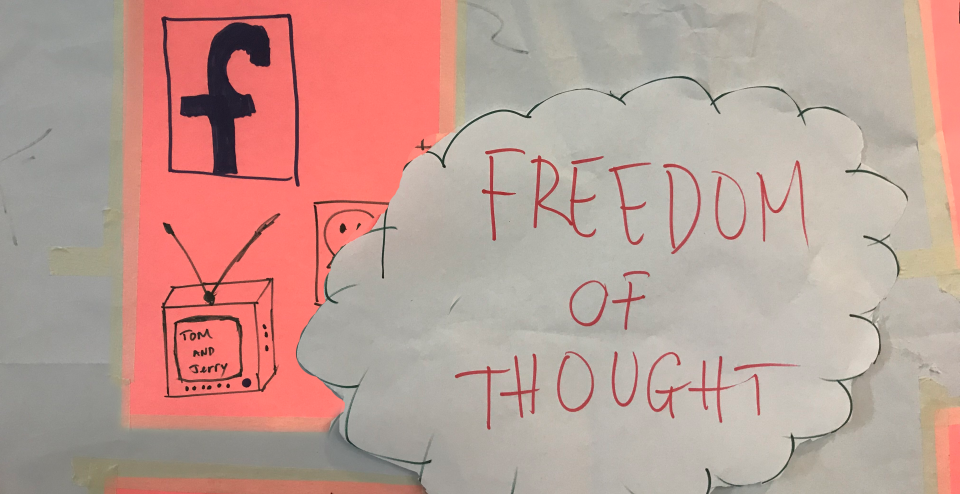 Image source: Shubha Kayastha (sketch by participants in a sexuality workshop). Title: freedom of thought. Description: Art work showing different way in which one can access knowledge and enjoy sexual rights.
Shubha Kayastha interviewed research team including Sanchia Brown, Programme Officer at Women and Media Collective (WMC) Sri Lanka and Coordinator of EROTICS, Sri Lanka; Subha Wijesiriwardena, a writer and a blogger working on gender and sexuality project in WMC and also associated with Internews in a project which supports Freedom House which looks like strengthening local LGBTIQ (Lesbian, Gay, Bisexual, Transgender, Intersex and Queer) groups in Sri Lanka; and Paba Deshapriya who has been working at The Grassroot Trust around the issue of sexual reproductive health and rights, HIV and gender based violence. The team also comprised Shermal Wijewardhana and Micheal Mendis who were not part of the interview. The team conducted research on use of internet and online platforms by LGBTIQ, and published a report on the basis of the research based on survey among 85 respondents carried out in English, Sinhalese and Tamil; desk review; key interviews and Focus Group Discussion (FGD). The study is in two parts first part: 1) human rights of Sri Lanka LGBTI and 2) is on use of online space by lesbian women.
Shubha Kayastha (SK): Could you tell me why the focus of the research is LGBTIQ?
Sanchia Brown (SB): The research was conducted based on the gaps found in existing research on sexuality and internet rights. There isn't much research conducted which focuses on the LGBTIQ community in Sri Lanka and how they use the internet.
Subha Wijesiriwardena (SW): In terms of the timing with relation to LGBTI rights in the context of wider socio-political context in Sri Lanka, we believed that in 2015 with the new regime, there is some hope for the new government to be more progressive. Civil society has been consulted on many fronts, including the drafting of constitution, drafting transitional justice mechanisms, and LGBTI groups did their submission in both the processes, specifically looking at inclusion of a clause around sexual orientation, gender identity and expression especially in relation to inequality , in fundamental rights chapter and transitional justice mechanism. There was also resistance from various sections inside the government and their broader constituency. Since last year the conversation has been in public as well, so this research is very timely.
SK: You mentioned that LGBTI community are being involved in various policy making process, however you still have penal code in Sri Lanka. So given the legal scenario, how is the situation of LGBTI people?
Paba Deshapriya: In terms of legal framework in Sri Lanka, there was a hope that the issues around LGBTI will be liberalized with the regime change, but we have penal code 365a and 365d that criminalizes homosexuality mostly in its interpretation. It is still vague, and even the LGBTI community isn't sure if these laws criminalize them, because it only talks about 'unnatural sex' or 'carnal intercourse' which is termed as 'against the nature', and this is being interpreted as anal sex assuming only homosexuals have anal sex. We also have 'cheat by personation' and 'vagrancy ordinance' acts.
On behalf of LGBTI people, the recent 'gender certificate' rule by Health ministry in which one can get identity card on the basis of their preferred gender identity, however their birth certificate is amended or changed, they put a seal saying 'sex changed'. In addition, they get judgmental and discriminatory treatment from the local governmental offices. Despite the changing laws, societal attitude towards LGBTI people isn't changing.
SW: focus on the issue is mostly from medical perspective and not from human rights perspective. In addition to that, the work around LGBTI is male centric through HIV and public health related programs.
SK: How is the scenario in Sri Lanka in terms of LGBTI and gender non-confirming people using internet and online spaces to explore and express their sexuality?
PD: The last regime didn't let anyone and LGBTI people to exercise their freedom of expression, which also contributed to the closing of one of the leading LGBTI organization, Companions of Journey. Similarly, another organisation Dust had to evacuate from their office who used to get inquiry calls from Presidential office. Thus with the change in regime, we wanted to see how freedom of expression of LGBTI has changed. Using online space to express themselves, but r we aren't able to use it to its potential. During the research it was found that the online space is not much utilized for expressing one's sexuality through mediums like blogs, except for the personal messaging. One reason could be because people are not comfortable or are scared to use online space openly. Some marginalised groups are using online spaces for different purpose, for e.g.: sex workers use Emo to find their clients, young gay people are getting to know about gay parties through Facebook messages or WhatsApp, some people are able to find romantic partner through online platforms.
SK: What was your perception towards importance of online spaces for such marginalized groups? Did the research participants share anything around this?
SW: It is very clear that it is an important space. One of the things that the study talks about is to construct identity including use of anonymity as part of self-expression. Women participating in the research also spoke about surveillance, and it is important to talk about gendered surveillance at both family and state level. In addition, the shrunken democratic spaces that we have in Sri Lanka gives online platforms even more values. Even in the current situation, we have examples of state trying to control online speech. It has been happening for a while but Colombo is just realizing it, however there has been continuous militarisationin North and North East for a while. Recently, someone posted a photo of a government office online and the state was trying to find out who it was.
SB: The study also mentions how the LGBTIQ community has been able to access information before and after the internet, which is quite interesting. A research participant mentioned how it was difficult to find out information on homosexuality and he would go to the library for information to find out if he was 'normal'. He shared how he is able to get more information because of the internet. Beside him, even the second part of the report shares how women are able to obtain and share information on social media for LGBTIQ activism and advocacy purposes.
SK: Given the state is trying to control online spaces, in what way do you think that has or it might affect LGBTI people in Sri Lanka?
SW: The government is including civil society in formulating policies, however there could be some level of manipulation that might be taking place where civil society isn't given what they are asking for.
PD: In the beginning of the current government regime, we saw some progressive changes, however it has changed. The last government was against LGBTI community and abortion, but this government is not. Even then there is a lack of enthusiasm around repealing the laws against homosexuality because people are fine with it.
SK: In the research report, it does speak about online harassment towards LGBTI community. Could you please highlight what were the findings and issues?
SB: The study looked at the adverse online experience including online violence and a majority of research participants had experienced online violence in the form of harassment, bullying, verbal abuse, misuse of posted content and photographs, etc. In addition, lesbian women felt that being under surveillance by family members restricted them for expressing their sexuality online.
SW: It was also interesting to find that women had their own strategies against surveillance by family which we have light-heartedly called 'lesbian tutorial' in the report. They learn about privacy setting and other strategies from each other. They were informed about surveillance and strategies to use.
PD: Through focus group discussion and survey we found out that perpetrators of offences against LGBTI are mostly their friends or those who know them or family or ex-partners who already knew about their gender and sexual identity. There was a recent case of murder of trans-person in Dambulla. Online space is just a reflection of what happens in physical world.
Online space is just a reflection of what happens in physical world.
SK: How concerned do you think LGBTI people are around digital security or if it is a very new area in Sri Lanka at the moment? What were some of those strategies they were using, like privacy setting of social media platforms or others?
SB: People know about securing their profiles. In addition to privacy settings that Facebook offers, they were using some of their own strategies by consulting each other when they would need for their safety and security. However, language plays a role as well. As Sinhalese and Tamil are the commonly used languages in the country, Facebook is in English and has the option of Tamil . Either way converting local languages into English or vice versa is not easy.
SW: They would be concern about their profile however awareness around the politics behind data doesn't exist even among the activists. None of women participants in the research, including the activists had been to any digital security trainings. We have criticized traditional approaches to digital security, which are mostly tech centric and intimidating.
PD: There is very little knowledge among people on what is the internet, their understanding is limited to their relation with their gadgets. Sri Lanka Computer Emergency Readiness Team 2015 has data on types of online victimization, and this suggests an increase in cyber exploitation and violence in Sri Lanka, especially around the use of social media. 2850 out of 2967 are social media related incidents. In 2016 2200 out of a total of 2341 incidents are social media related. The government data shows that most of the cases reported are on social media and out of them most of the incidents could have been prevented if people were able to setup privacy setting. They are not aware about encryption of data or how the internet works. Computer literacy is very low in Sri Lanka, most of the internet users are using it through phones.
SK: What are the alternative ways of providing knowledge on digital security in a non-threatening ways when it comes to marginalized groups like LGBTI?
SW: The Feminist principles of Internet does provide an approach to be more accessible and meaningful. The fundamental idea is that, technology belongs to you. So if you provide sense of this ownership to people and then talk to them about safety and security, that would be a better way. This will also shatter the power structure within the discourse of technology.
The fundamental idea is that technology belongs to you so if you provide sense of this ownership to people and then talk to them about safety and security, that would be a better way.
SK: What are key outcomes and recommendations of the research?
PD: We have four sets of recommendations: for the government, for the law enforcements, for Internet Service Providers (ISPs) and for civil society organisations. There are some recommendations around reformation of policies that affects the life of LGBTI online and offline.


We have spoken about surveillance, and how people are to be aware of any form of surveillance including those by government or family.


Another recommendation is to the government to establish a separate body, either judicial or quasi-judicial in nature, to oversee internet service providers (ISP) compliance with surveillance measures. The government should ensure that such a body will be comprised of individuals with adequate expertise in human rights and law enforcement and that its members will be independently appointed and secure in their tenure.


Ensure that all online surveillance measures are subject to the approval of an independent body.

Also to amend the Telecommunications Regulatory Commission Act (as amended in 1996), to specifically exclude the Commission's power to oversee surveillance measures in individual cases.



Require any general evaluation of an ISP's compliance with surveillance requests, if provided for, to be transparent and in the public domain.


There needs to be investigation of cases of online harassment.


In addition to that, we have recommendation for civil society organisations to work with media, the government and to create awareness among people, amongst the others.


To civil society organisations including those working with LGBTI community, we recommend that they use the internet more.


SK: Were there any challenges while in the process of conducting the study and writing the report? And are there any suggestions for other researchers interested to conduct research around use of internet?


SB: There were difficulties in reaching out to the people in the communities, for interviews and for FGDs, mostly those who were anonymous. Apart from that, when we had approached government officials, they were not willing to speak to the researchers perhaps because of the legal framework and stigma surrounding LGBTIQ. The second part to the research was included because the data gathered for the research showed that there were areas that needed to be addressed. In Sri Lanka, there is a need to study how feminists and women rights activists use the internet and what challenges they face when using the internet for their work.