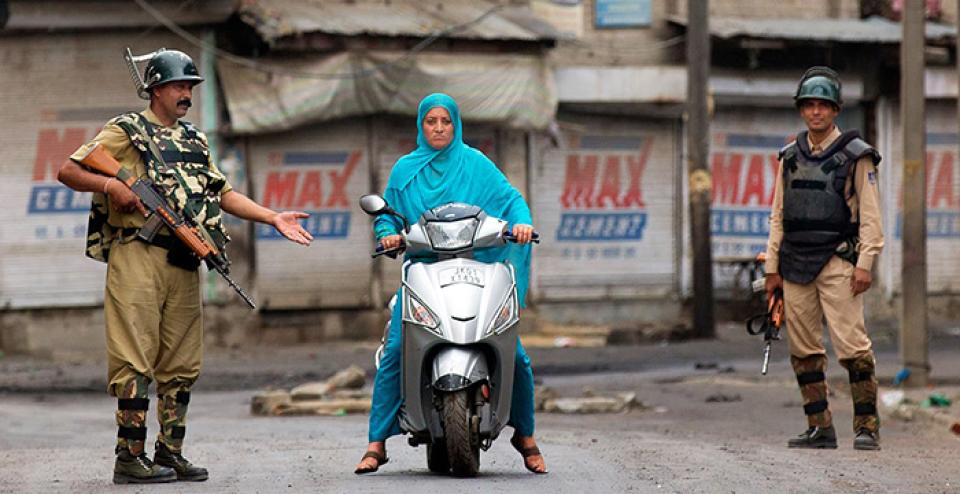 E-curfews: What the Internet shutdown in Kashmir is actually about
Huma Dar, one of the many Kashmiri voices of resistance, was a vocal presence on social media about the freedom struggle of the Kashmiris. This was until her Facebook account disappeared in the early days of July. She got a curt and vague email from Facebook saying that the account was permanently disabled because she had not followed Facebook community standards i.e. "credible threats to harm others, support for violent organizations or exceedingly graphic content". Two weeks later she briefly regained access, coinciding with a brief lifting of curfew in the Kashmir valley. But within hours of her posting about the Facebook blockade, she was denied access to her account again without any warning.
About the block on her account, Huma Dar says, "The nefariousness of the crackdown, replete with information bans is absolutely criminal! Disabling my account, I think, was very deliberate and intended to block or dampen the alliance-building that is happening between Kashmiris and Anti-Caste Dalitbahujans and Palestinians and Black Lives Matter movement and indigenous struggles in USA… I am so glad that the connections on ground are taking root!"
On the 35th day of the curfew, I got to speak to artist and activist Mahum Shabir who lives in Kashmir, via a tenuous link on a Facebook call. Mobile phones were still down but broadband had finally been restored. When asked about the shutdown of internet and mobile phone services in Kashmir, Mahum said – "It goes beyond a clamp down or censorship. The curfew in the streets of Kashmir extends online, like an e-curfew. It's an assault on life itself. It's even getting difficult to get essential supplies here – like food, milk and vegetables, medical supplies and petrol. It's not anymore about communication or connecting with others – it's about existing and living. Even those of us who are not injured by bullets and pellets are being isolated and traumatised. I have to wonder – what if I am injured, how will I be taken to a hospital, what if I run out of petrol on the way. It's really a siege."
It's even getting difficult to get essential supplies here. It's not anymore about communication or connecting with others – it's about existing and living.
What is also in short supply is news, either coming from the valley and even within. In the first week of the curfew (from 9 July 2016), all the press offices operating in the region were raided and the newspapers seized. Social media has played an important role in ensuring that news comes out of Kashmir – whether it is Youtube videos of ambulances being attacked by the army, even one of a man asking for help who was shot and killed(video no longer available), or anguished Facebook updates that are shared several times. This is how people in India and in the rest of the world know what is actually happening in Kashmir, including Kashmiri diaspora and students living outside of Kashmir desperately trying to get in touch with their families.
Within India, the mainstream news channels have a fixed script that is played out tirelessly in relation to the "internal dispute" in spite of it being an acknowledged international dispute, considering that 3 wars have been fought between India and Pakistan over Kashmir and there have been several UN several resolutions. "Now it is has become that the Indian state is saying that if you don't live on our terms, then you are the enemy and this is what we will do with you. In a manner that mimics how the British colonial rulers treated the Indian natives, we are being told we don't know anything," says Mahum. "We are being treated in a patronising way by an inhuman Indian state. The objective is infantilise us. We are wicked children."
We are wicked children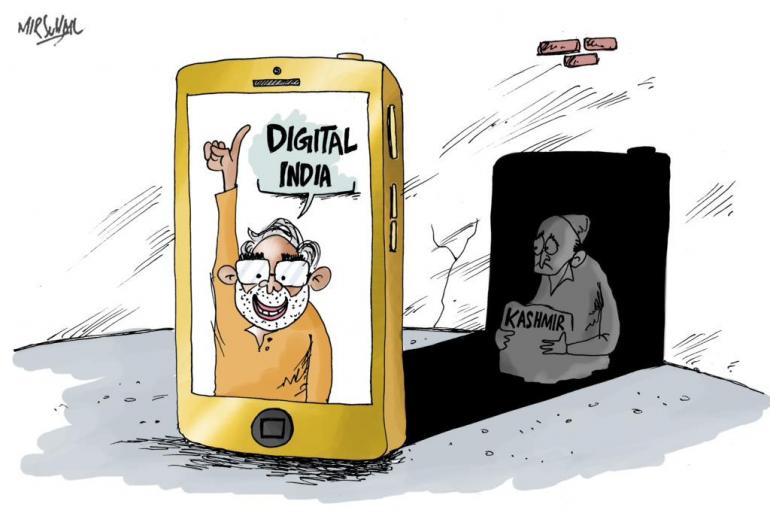 Normal times
An artist and performer whose account has also been blocked is the Kashmiri Cabbage Walker. What the Kashmiri Cabbage Walker does is disarmingly simple – a person, shrouded in a pheran (garment worn by Kashmiris) is walking through the streets of Srinagar dragging a cabbage that sits pertly on roller skates. Like many others, I assume that the Kashmiri Cabbage Walker is male, but the agender and resolute figure gently mocks my assumptions.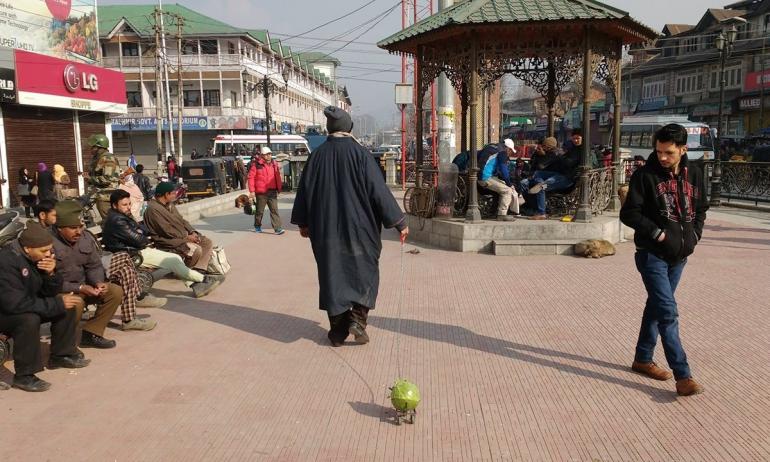 "The whole Walking the Cabbage begins when 15 years ago Chinese artist Han Bing innovates this art performance by walking his cabbage on the streets of Beijing to put into question the idea of what can be normalized as (everyday) practice. I borrow this concept years later, in December of 2015, to bring into question the idea of 'normalcy' in Kashmir. In Kashmir since the last 26 years of militarization, the idea of normalcy has been that civilians must accept living amidst Indian armed forces and their "structures of violence" (bunkers, checkposts, detention centers, camps, cantonments, barbed wire buildings, jails, etc.) In my view, even after a quarter of century this sort of existence cannot be normalized, or sediment and solidify into permanence. So to battle that, I have introduced the absurd act of walking the cabbage in order to question what this idea of militarized normalcy means."
I have introduced the absurd act of walking the cabbage in order to question what this idea of militarized normalcy means.
The Kashmiri Cabbage Walker had 1700 friends on Facebook – "I was becoming a hub of all things Kashmiri, especially things related to resistance against the powers that be and usually things related to the dissemination of Kashmiri culture and Kashmiri contemporary art and thought." In the 3rd week of the curfew in Kashmir, the cabbage walker was locked out of their account, ostensibly on the grounds of the real name policy. "I posted only legitimate (by my standards) articles by the Kashmiri, Indian and international press regarding the situation in Kashmir. I also provided commentary and shared the commentary of others. It was all to give a unique platform to the voices of others, and it was taken away from me at a crucial time."
Ather Zia, a writer and journalist, has some nifty advice on how to avoid Facebook censorship. The often repeated argument is that the blocks and content-removal operate on the basis of repetitive and bot-like behaviour (i.e. a person is only posting content about one issue without alternating with a kitten gif once in a while) but there is obviously a concerted effort to get at any pro-Pakistan or pro-freedom material.
One of the items repeatedly removed by Facebook was a video of young girls chanting for azadi (freedom). Mahum Shabir says, "The person who uploaded the video, their account got deleted, and so did the video that I had shared. I can't imagine what is so terrible or revolting in a video of a group of little girls saying – hum kya chahte- azadi (what do we want: freedom). It is the environment that they are living in and the brutality that they are witnessing, that makes them say this. Instead it is the video that is removed. What the video makes very clear is that azadi for the Kashmiris is a deeply felt and harboured sentiment. Its not about alienation from the rest of India or about radicalisation by few elements from across the border (Pakistan)."
I can't imagine what is so terrible or revolting in a video of a group of little girls saying, what do we want – freedom
Official reasons for the clampdown
The stated reasons for shutting down of the internet in Kashmir during the siege in the region has been to check spreading of "rumours by anti-social elements". The divisional commissioner of Jammu stated that only Whatsapp had been stopped while other services are on and off for the same reasons to stop "rumour mongering".
In April earlier this year, again the internet had been shut down when a girl had complained of harassment by an army person in a public toilet in Srinagar. The Handwara girl, as she came to be known after the incident, was kept in police detention for almost a month. A video of her retracting her original version of events and saying that someone 'snatched her bag' was officially released by the Indian army and circulated via social media. The detention of a minor girl and the video are both unacceptable by any legal or ethical standards. In the original video, her face was not blurred even – had it been a Hindu upper caste girl in Delhi or Bangalore this would have been considered a gross violation of her rights. Eventually when the Handwara girl was released and back safely with her family, she gave a statement in front of the press where she stated her original version of the events vehemently in a room full of reporters and lawyers.
The detention of a minor girl and the video of her are both unacceptable by any legal or ethical standards
A month and a half after this, a young and popular freedom fighter Burhan Wani was killed by India's occupying forces (8 July 2016). Burhan Wani was a symbol of hope for the Kashmiris. While the excessively brutal methods of the Indian state since the 1990s had kept the growth of "militancy" in check, there is still widespread and growing resistance amongst Kashmiris. Burhan Wani's funeral procession was attended by over 300,000 people including men, women and children, and took place across many towns and districts including in Tral where his home was. The Indian state's response was to viciously crackdown on these gatherings and to declare curfew.
Many things grind to a halt during a curfew – offices and schools are shut down, exams postponed, trains no longer ply their routes. On the 40th day of the curfew, information was released that the armed forces had fired 1.7 million pellets from 3675 cartridges. Over 70 people have been killed by the Indian armed forces, 100s blinded by brutal pellet guns and more than 4000 injured since July 2016 to now. On a single day in Kashmir, just before independence day in India, over 500 people were injured and many kept in preventive custody. Since 1947, it is estimated that over 90,000 Kashmiris have been killed.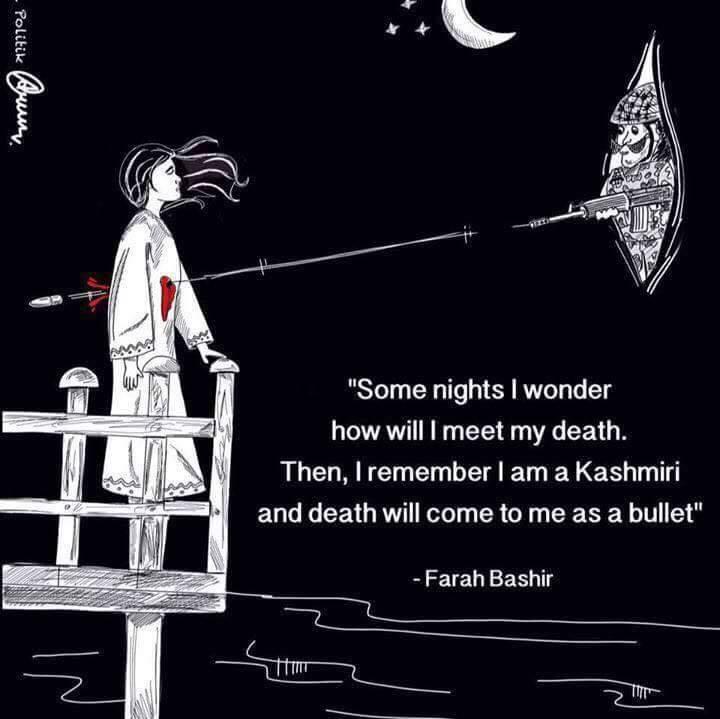 In the midst of this siege, a nervous and fidgety government repeatedly shut down mobile services and broadband services, even those provided from the government itself. About 20 days into the curfew, there was even an article on how the government intends to create its own separate 3G service for their officials and personnel in Kashmir. Often issue or theme based activism falls into a trap where it is possible for civil society and even a politician in parliament to specifically refer to internet shutdowns in Kashmir – to express mild discomfort (like a soundless fart discharging) and vague accord with the needs of "the young" for the internet, while not addressing the nefarious and wide net of atrocities and brutalities wrecked on the people of Kashmir. It is this illusion of democracy that allows for internet and free speech activism to occur as if divorced from other realities. But paradoxically the internet is important here – because the drying up of the news from Kashmir is also what allows Indians to ignore and even 'make peace' with the unsettling sense of something horrific happening while still hanging onto the ideal of the nation.
It is this illusion of democracy in India that allows for internet and free speech activism to occur as if divorced from other realities of violence and oppression
Social media is both the space for building a new language to speak about Kashmir in terms of occupation, resistance, settler colonialism or separatist movements, and it also is a technology of control for the Indian government. Banning certain websites and people and blocking the internet for periods extending to weeks are seen as completely acceptable ways of dealing with the "Kashmir crisis". In a sneaky inversion, this also becomes a technology of infiltration, as the incident with the Handwara girl demonstrated where the video of her "testimony" regarding the harassment was circulated deliberately by the Indian state. In the month of August, the father of the martyr Burhan Wani is triumphantly photographed with Sri Sri Ravi Shankar, a renowned guru of the "art of living" who propels inner peace and soft Hindutva. This photo is circulated in a bid to undermine and defeat the morale of the growing resistance to India, and to establish forced connections that display a false unity between Kashmir and India.
Resistance and backlash
Scores of images emerge from Kashmir daily. Whether political cartoons, photographs, poetry, news, videos and so on. One of these is a series of images that mutilates the faces of celebrities as if they have been struck by the pellet guns that were used in Kashmir. There is Mark Suckerberg himself, Narendra Modi, Shahrukh Khan and others. Pellet guns are a particularly horrifying mode of quelling protests, historically used to subdue animals – these guns also spray pellets over a large area with no specific trajectory. A 13 year old Insha Malik and 5 year old Zohra have been struck by pellets.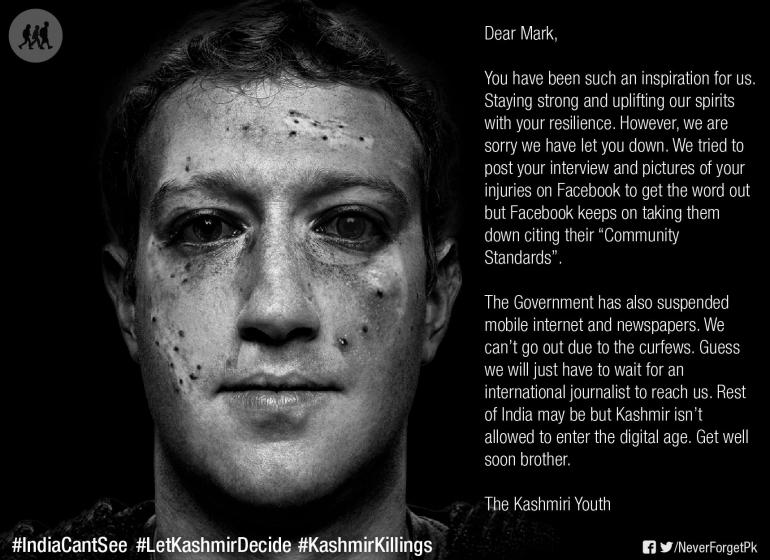 Mahum Shabir says, "I have realised that Facebook is not a public space. We think it is because everyone is on Facebook. There are corporate and geopolitical connections here, as is obvious from the meeting that took place between Narendra Modi and Mark Zuckerberg." Just before I spoke to Mahum Shabir, she had shared on her Facebook wall the Intercept study of how movements like Black Lives Matter in America were controlled and blocked from effectively using Facebook, through the selective targeting of their algorithm. There also remains especially in the global South, a complete lack of transparency as to how the police or government approach Facebook for information about users that is not public, and whether these requests are substantiated by any form of due process.
There is a sliver of hope through the use of the internet and social media, for a different narrative of Kashmir. The Kashmiri Cabbage Walker shares some sense of this hope – "People are looking for multiplicity of voice, a polyphony of voices if you will, they are not convinced by the statist discourse backed by mainstream Indian media, and some people by their mere nature are "archaeologists of knowledge", people who like to dig and reach beyond the surface, and in my view it is precisely those people who are reaching out to Kashmiris in their time of need."
There are several articles, Facebook updates and websites that offer alternates to known and unquestioned histories. In April when Mahum visited Bangalore, she created an installation with papier mâché boxes created out of the legal documents around the Handwara girl. Surrounding the space in which the boxes are kept is the insistent recorded voice of the girl herself telling her truth, her version of the events. This mix of écriture féminine and legalese is one of the many creative forms that attempt to destabilise the ways in which Kashmir is thought of, to take it back from being either a fetishized zone or a militarized one (1:18 is the ratio of soilders to civilians in Kashmir, or was, till the recent siege – almost as high or higher than Palestine, Iraq or Afghanistan).
To support this militarization, Indian audiences are fed a steady diet of the project of nationalism through the mainstream media and especially television channels. The Kashmiri Cabbage Walker acknowledges this grim reality that exists in spite of what our filtered social media bubbles might tell us. "We are nowhere near raising awareness for the plight of Kashmiris and their suffering, since consensus is guided and driven by the likes of Arnab Goswami and Barkha Dutt in India. There is also a distinction between the local and the global. We do see that the Kashmiri local has a chance to venture into the global with organizations such as Press TV and Aljazeera, among others, reporting on matters and asking questions at ground level from Kashmiris themselves."
We are nowhere near raising awareness for the plight of Kashmiris and their suffering
The popular rapper MC Kash too has a growing fan base across the world. He raps about "the heart of a rebel" and freedom/azadi "like a sufi". At a performance in Bangalore, India he is barely able to complete one song before the local police wrenches him off stage amidst chaos, while a few Kashmiris protect him from his detractors and right wing groups.
Indian Trolls and Nationalism
In Bangalore, a Facebook event page 'We stand with Kashmir' collects trolls while plans for protesting collect ennui. At the few events that do take place, the topic of Kashmir unfailingly attracts the rabid nationalists. The conversation is rarely about self-determination as an intrinsic right of people everywhere, though on a few occasions within small rooms of civil society discourse in India there is an acknowledgement of human rights violations. Even international organizations are wary of taking a stance on self-determination that will antagonise the current government.
What public conversations in India are most often about is the imagined allegiance to a relatively young country (70 years), which is better described as a Brahmanical nation that served class interests of a handful of upper castes. Young students especially refer to this anthropomorphic idea of India whose crown or head lies in Kashmir. Others imagine that if Kashmir is allowed to leave then indeed why won't all the other groups and races and ethnicities, discounting that numerous such struggles have existed and do exist and that this is an acknowledged right of people. Huma Dar speaks of the ways in which this frozen tableau of the discourse exists even in universities in USA, "There is complete silence from NRI savarna (i.e. dominant caste) academics, even the most "progressive" ones."
The clot of irrationality is poisonous and the trolls that populate the pages and discussions on Kashmir are inexhaustible. There is always an absurd version of history in which Kashmir becomes an "integral part of India" or a reference to the attacks on Hindu Brahmins aka Kashmiri Pandits that left in an exodus and were driven out of Kashmir in the 1980-90s, while ignoring the mammoth scale of the brutality against Kashmiri Muslims or even the immediacy of the ongoing siege.
The trolling is abusive and vicious, simply put it is hate speech. Under Indian law, there is a category of "incitement to violence", and as Mahum says about her article published in a webzine in India, "If I had looked into the entire list of comments on my article, I am sure that most of would qualify legally as 'incitement to violence'. People say things like Kashmiris deserve to be killed without a thought. But no one goes after them, instead they go after Kashmiris who say they want freedom or azadi, and even their supporters. It is becoming difficult to even make statements of human rights violations that are taking place"
Such violence triggered by Indian nationalism and Hindutva is organised around tropes of protecting the Bharat Mata (India-mother or motherland) and Gaumata(cow-mother). It is insistently patriarchal and particularly dehumanising along the lines of gender. In 1991 in the villages of Kunan Posphpora, over 40 women were raped by the Indian armed forces and this case has not been resolved in any court even today; in 2009 two women Neelofer Jan and Aasiya Jan were abducted, raped and killed and this was ruled to be a case of drowning. One of the most powerful figures and movements to emerge from Kashmir is that of Parveena Ahangar and the Association for Parents of Disappeared Persons, similar to the Grandmothers of the Plaza de Mayo (mothers and grandmothers of the disappeared in Argentina) and the anguished agitations for the truth behind the disappeared students whose bodies were found in Mexico.
The Kashmiri Cabbage Walker says how the suffering of men and women are intertwined, and that Kashmiri women have a long history of resistance, shoulder to shoulder with men. "Kashmir has been no different, just like any other war women often become targets of rape. Human Rights Watch has a report published titled, "Rapes in Kashmir, A crime of war". This report establishes how rape has been used as a tool to bring both women and by implication their men to knees… Rape has been used as a technology of control by the Indian army. Imprisonment has also been used. You might remember Zamrooda Habib a pro-freedom leader and part of Hurriyet (G) was incarcerated in Tihar jail for 5 long years. She wrote a book about it as well called Prisoner no: 100. You might also remember Afshan Guru who was imprisoned in the Parliament attack conspiracy gave birth inside the jail. These are only some high-profile cases, and there are many others where women were jailed as readily as men."
Rape has been used as a technology of control by the Indian army and so has imprisonment
There is a continuum of this violence to online spheres as well. "Women are routinely harassed on the social media and threats of rape are the most common ones that Kashmiri women deal with. There are also allegations against them of being 'Pakistani stooges' etc. These allegations seek to dislocate them from the positions of self-representation."
Of the many horrifying statistics that we know about Kashmir is that there are 38 mass graveyards, 63 known interrogation and torture centres and over 8000 people have disappeared since 1947. And inspite of this relentless dehumanisation, the rallying cry has always been for azadi – freedom or self-determination. As eloquently put by Mohammad Junaid, "At the heart of all Azadi is equality. After all, what Kashmiris are asking is neither so otherworldly-radical nor new: We demand Azadi not because we are different or separate, but because we are just like everyone else. We don't want to be subordinated under a coercive, undignified logic of integration; we want to become an integral part of the whole world." Mahum Shabir asserts this demand for humanity and equality too. She says, "The demand for freedom is actually so humanising – despite living in the conditions of curfew and blockades and oppressed by the Indian state, we still want and desire our freedom."