Eloisa Diez nació en Buenos Aires, Argentina y desde hace 12 años vive en México. Estudió Ciencias de la Comunicación Social en la Universidad de Buenos Aires (Argentina) con especialidad en políticas y planeación de la comunicación. Es productora audiovisual, investigadora y guionista. Sus estudios y formación abarcan diferentes disciplinas como teatro, radio, escritura (participó durante 7 años de un taller de escritura), guión de cine, pos-producción de audio para cine, entre otros.
Es Socia cofundadora de La Sandía Digital, Laboratorio de Cultura Audiovisual A.C., en los dos últimos años ha dirigido cerca diveros documentales sobre diferentes temáticas, seleccionados y proyectados en diferentes Festivales Internacionales de Cine y Derechos Humanos. Asimismo, realiza guión y diseño sonoro de las producciones de La Sandía Digital.
Be a fan
Feminist talk
At the camp of Take back the tech! campaigners a group of intrepid people came together to create a fantastical super person - a non binary character who is a feminist and has powers to analyse, slay and decrypt the digital world.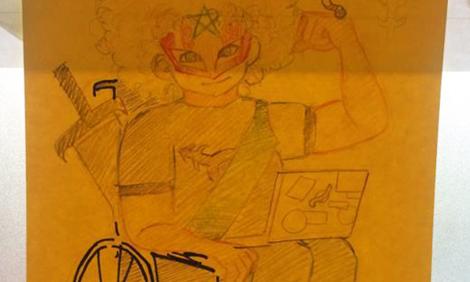 Feminist talk
Crear una heroína feminista de manera colectiva. Experiencia de comunicación y creatividad sin limitaciones....