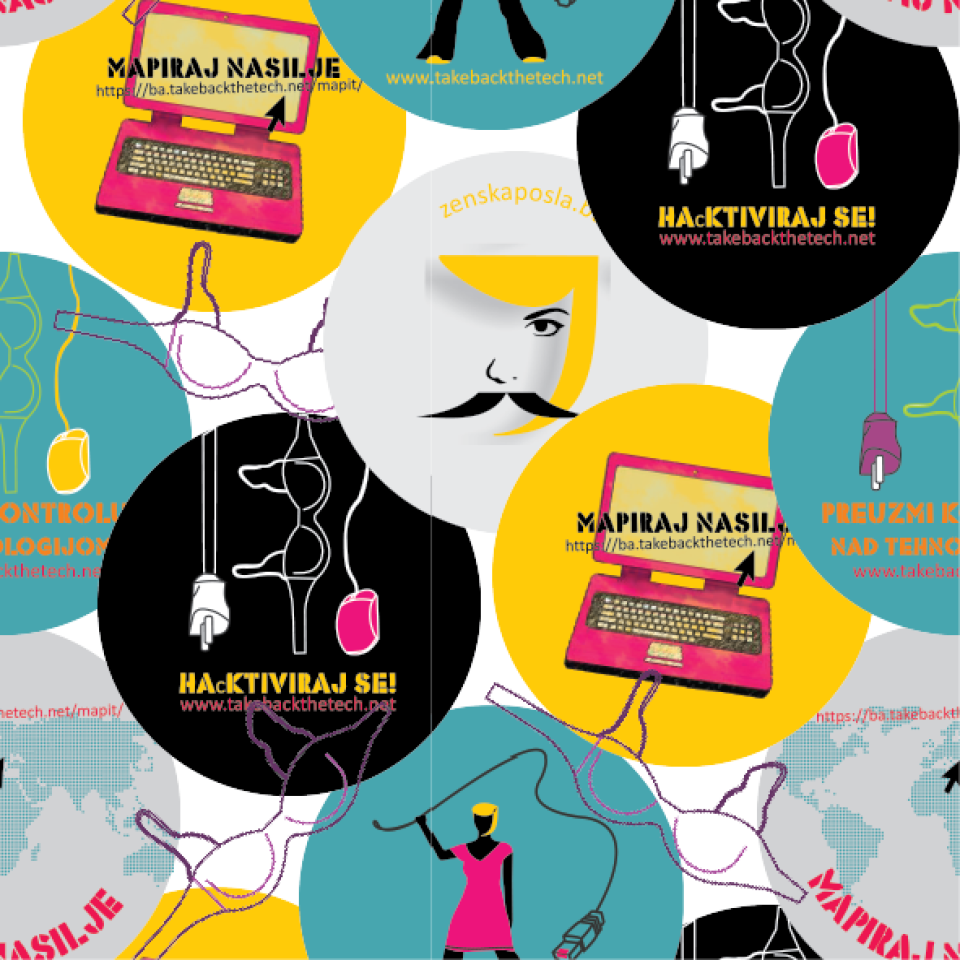 Nina* finished her work day at the high-fashion clothing store in the biggest shopping mall in Sarajevo, after tagging the new clothes they had received that morning and placing them on the bright red shelves. She said goodbye to the rest of the staff remaining, and left for home. While walking, she thought Sarajevo looked more beautiful than in her teenage days, long before the whole nightmare with her former partner began. She sighed, remembering everything she had to go through to get out of that violent and abusive relationship that she endured for three years. One thousand and ninety-five days until she found the strength and support to end it.
But that was just one step in the continuum of violence that would come afterwards. Stefan refused to accept her decision to end the relationship, and began stalking her. Nina found herself being followed to work; many times she would find her ex hanging around outside her house, and visiting the same clubs and cafés she liked to go to. He also began sending threatening messages to her mobile phone, which dramatically escalated in number and level of aggression when Nina started dating a new man, who also became a target of Stefan's anger. He started sending violent threats to Nina's new partner on a regular basis too, and for a period of one month, messages arrived almost continuously to either one of their mobile phones.
Nina kept walking, and turned around every one or two blocks to check if she was being followed, performing the routine she had developed after all the harassment she had suffered. The constant barrage of threats had caused so much psychological harm that she began to feel constant fear, both inside and outside her house.
As she rushed home, Nina stumbled, overwhelmed by the sudden memories of that day at the police station, when she and her current partner had gone with a collection of the messages they had received on their mobile phones, to seek justice. As half of the women victims of technology-related violence do, Nina first turned to the police authorities in search of justice. The result, however, was what happens in close to half of the cases reported: they are not investigated by the authorities. Even after seeing the content of the messages, the police did not take any immediate action. "This is not real violence," a policeman told Nina. "If he touches you, come back and we will get him," said the police officer, with a condescending half smile. Nina was speechless. Where was the justice when rules were being broken? "I'm afraid we are alone," Nina told her partner with a tired voice.
Nina also remembered how hard they tried to work out a solution, even calling their phone provider at least three times each. Generally, the response of the provider in these situations is very poor: action is taken by the service provider only in under one third of the cases reported by women. Nina's case was no exception: the phone company's response was that since the perpetrator kept changing his mobile phone number, they could not track him down. "In Bosnia and Herzegovina it is possible to buy a cheap SIM card without registering your name or any other kind of personal information," the service provider representative explained, kindly but uselessly, "which means that people can change their mobile numbers as often as they want."
Nina shivered, as she had a sudden flashback of that day some months ago when Stefan finally lived up to all the threats he had been making via mobile phone. Stefan waited for Nina to come out from work; she left, rushing in her high heels and dragging her tired self after a hard day of work at the shopping mall. Nina noticed that the street was quite empty for a Friday night, and she was worried about getting home on time to take a warm bath and get ready for the cinema. She suddenly heard a male voice saying something like, "I told you this would happen, you whore," followed by, "You leave me no choice." And all that Nina can remember before blacking out is Stefan's characteristic and penetrating cologne, a quick glance at his blue-framed glasses, followed by every one of her bones aching, and being unable to recognise her own face in the mirror just minutes later. Stefan had turned all those online threats into a horrific reality.
Stefan only got arrested after he beat Nina up. The arrest was not made on the basis of the online harassment and threats she had faced over the course of months, but for the single incident of physical aggression. The prosecutor recommended keeping Stefan in custody for one month, out of fear that he would repeat the violence. The case is still ongoing. Nina decided to quit using her mobile phone, which she feels is quite unfair, but she couldn't find any other way out. And to this day she still turns around every one or two blocks to check if Stefan is following her.
If you or someone you know is experiencing blackmail, cyber stalking or online hate speech attacks, we invite you to visit the Take Back the Tech! roadmaps to find action-oriented recommendations and assistance for this situation: https://www.takebackthetech.net/know-more
This story is inspired by the case study "When an ex-boyfriend's violence turns digital", which is part of a series of in-depth case studies mapping women's experiences of technology-related violence and their attempts to access justice either through domestic legal remedy or corporate grievance mechanisms. The original case studies were documented as part of the Association for Progressive Communications (APC) seven-country research initiative,_ From impunity to justice: Exploring corporate and legal remedies for technology-related violence against women, conducted in Bosnia and Herzegovina, Colombia, the Democratic Republic of Congo, Kenya, Mexico, Pakistan and the Philippines. The original case studies from Bosnia and Herzegovina were documented by country researchers from the project partner OneWorldSEE between November 2013 and April 2014 and the summaries were prepared by Richa Kaul Padte.
(*) Names, places and some other details in this story have been changed to preserve the anonymity of the victim and for style purposes.