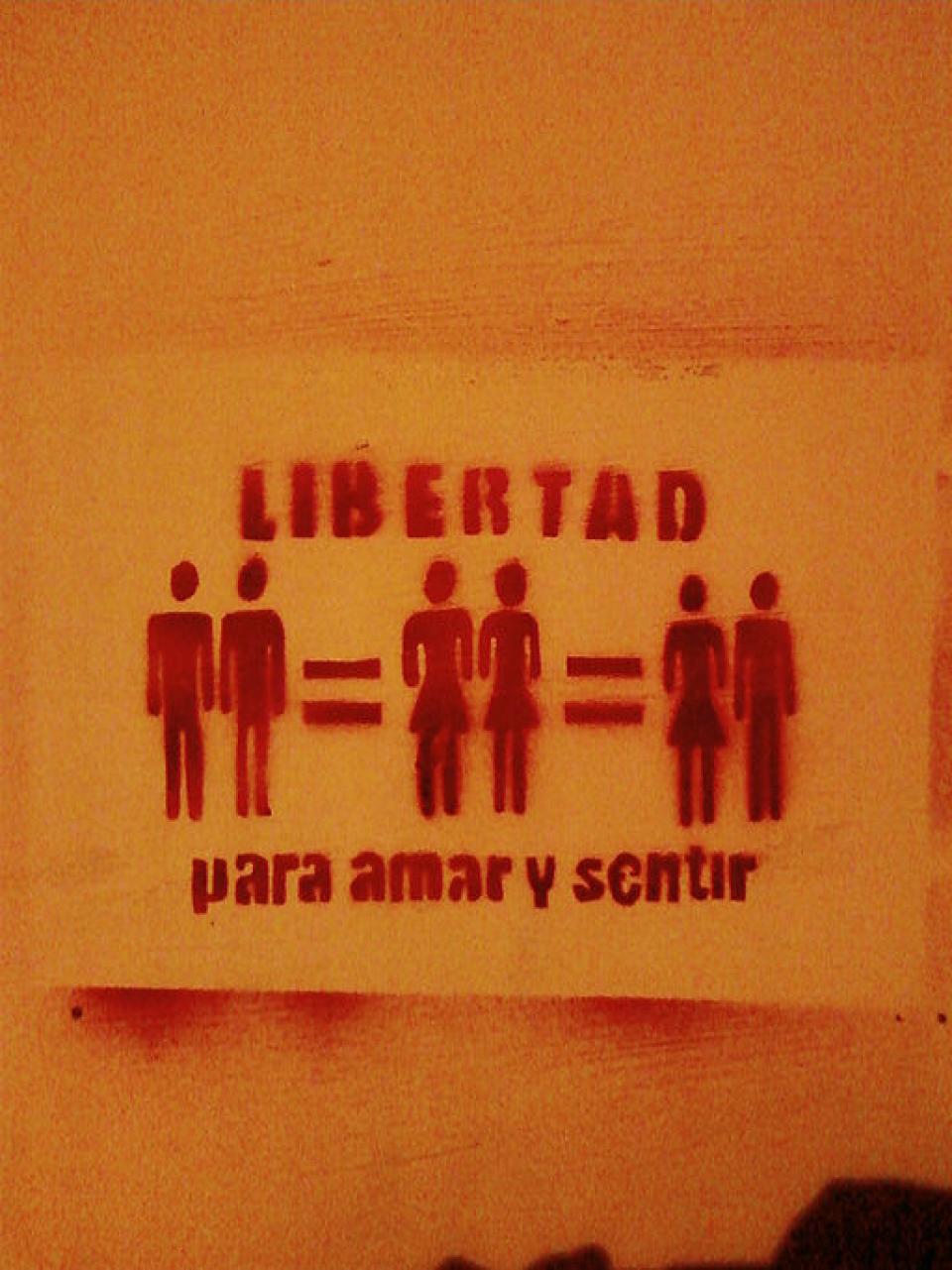 Has the internet become an indispensable tool for feminist and LGBTQI (1) advocacy? How savvy are sexual rights activists in handling the legal and technical issues that come along when they use the internet? How do they negotiate online threats and restrictions? Activists from around the world addressed these and other questions through a global online survey on sexual rights work and the internet.
Survey on sexual activism, morality, and the internet
"You know that when you are online

you cannot worry about your privacy.

Internet is communication without walls." *
(*) Epigraphs have been extracted from

anonymous responses to an open ended question

on experiences of distress while using the internet.
There's no doubt that young women and men have made the internet a prime site for sexual enjoyment and expression, but not without a cost. Increasing online activity exposes users, particularly women and sexual dissidents, to sustained risks and threats, some of which involve their sexual well-being. On the one hand, formal regulation initiatives aimed at curbing those risks, while broadly justified by the imperative of protecting vulnerable subjects, end up generating restrictions to the very online activity and contents which could otherwise improve a thriving online experience. On the other hand, individuals and collectives have used their creativity to develop their own means of protection, self-regulation, and empowerment.
The EROTICS project looks at the impact of regulatory frameworks and control mechanisms on the actual lived practices, experiences and concerns of internet users in the exercise of their sexual rights. (2) To assess the scope of this impact on sexual rights activism, the EROTICS team designed and applied a global survey on online contents, practices, and modes of interaction censored, limited, or under threat.
The survey
Respondents were recruited online among global networks of gender and sexual rights activists, scholars, and policymakers, to capture a snapshot of present trends in the online experiences and uses of the internet for sexual rights advocacy. They answered a questionnaire hosted on the APC for two months in early 2013, (3) referring to their collective experience as members of gender and sexual rights groups, organizations and networks.
Most respondents worked on feminist (53%), LGBTQI (53%), sexual and reproductive health or HIV/AIDS (44%); and youth, adolescents and children's rights (25%) issues. Many worked on two or more issues. Roughly two thirds of the sample were in their 20's (33%) and 30's (37%); two thirds female (62%), and one third male (32%). This convenience sample was largely based in the global south: almost half the responses came from Latin America and the Caribbean; with a 23% of the total sample based in Brazil, followed by Mexico, Malaysia, India, and Indonesia.
Almost the whole sample had internet skills: 80% said they used it without any problems, while 18% knew enough to perform everyday tasks. A great majority (77%) of the sample had broadband access at home, while 45% had access to the internet at work or school. Correspondingly, 23% did not have broadband and 55% did not use the internet at home or school. That is particularly significant since only a small proportion of respondents (10%) evaluated that they could perform [their] advocacy work without the internet. Most respondents declared a need for the internet in their work: 44% thought it would be difficult, and 46% said it would be impossible without it.
Practically all respondents attributed some degree of importance to the internet in their work on sexual rights (only 1% said it was not useful in any way). Most respondents found the internet useful to share information (87%), and search for information (73%); while almost half the sample also found it useful for public action and support (47%)––which roughly coincides with a 49% who work on raising public awareness or campaigning for rights. A significant 37% of this sample of gender and sexuality activists and intellectuals declared that the internet allows groups to network in safer conditions than face-to-face, and 26% thought that it allows dialogue between people with diverse opinions.


Note: Multiple-choice (maximum 3 categories per case). Respondents N=365.
Online threats and restrictions
"There is no "most difficult" experience.

As an outspoken woman

with a platform, I am a natural target."
We asked about respondents' concrete attacks or threats received while using the internet for their work on sexuality. Such situations (listed below) may be classified as:
interactive
(those that involve a deliberate attack or violent response by another user, as well as the user's skill or capacity to respond);
regulations
(referred to official interference on user's online activity); and
technical
(involving technological threats requiring special skills to be negotiated).
"There have been abuse messages, bitch, whore,

wish you would get killed, that sort of crap. But it

does not intimidate me. I find it humorous :-)"
"'Let me show you what a real man can do'

is the most common threat."
About half (51%) of the sexual rights activists, advocates, scholars, and policymakers who filled the survey had at some point received
violent messages, threats or
[offensive]
comments
while working online. Other experiences ranked almost as high, mentioned by a significant overall amount of respondents:
fear of viruses and other technical damage to software
(46%);
and concerns that [their] private information can be accessed without your knowledge
(45%).
"Another LGBT activist's Facebook account was hacked

and a blanket threat was issued for everyone connected to him."
About one third of the sample mentioned
intimidation
(34%);
blocking and filtering
(33%); or
censorship
(29%). The older the respondent, the less experiences of censorship: 18% by those
40 years and older
; 30% by
30 to 39-year olds
; and 37% by those
under 30
.
"As a sex worker, I'm anonymous. A person with a

different view on sex work issues threatened to out me. She looked up

information about me, and posted it on a Facebook community of

people who shared her politics. Scary."
As compared to other regions, relatively few respondents from
Europe, North America and Australia
had been
directly attacked or received threats for their online activities
(5%), or
had to remove content because of a threatening response
(7%). The global average for both experiences was 15%. Likewise, the proportion of respondents who
had their e-mail, social networking account or website hacked
in those same regions was also as low as 9%, half the overall global average of 18%.
As compared to other organizations, few respondents who belong to academic, policy, or research institutions had their website, email or social networking account broken into ('hacked') or manipulated, (9%), out of an 18% total average.
The proportion of respondents from Africa and the Middle East who had been warned, arrested, prosecuted, convicted, detained or questioned by government authorities because of [their] online activities (12%) was double the global total average (6%).


Note: Multiple-choice (all that apply). Respondents N=365.
In response to online attacks, threats, and restrictions, 27% stopped what they were doing or trying to do; also 27% got technical help from someone else; 25% countered the attack, threat or limitation technically by themselves, for example by using proxy servers, counter-hacking, etc.; also 25% campaigned or protested about it; and 23% reported it or used legal strategies. Note that alternatives in this case were not mutually exclusive. Fewer respondents (9% of the total sample), and even fewer respondents from Latin America and the Caribbean (3%) mentioned having moved their activity elsewhere on or offline.
"People from my organization are concerned

and take safety measures to share information online.

But direct comments or attacks are quite easy to delete and block.

We do not confront."
Younger internet users are more likely to have
campaigned
in protest against online threats, attacks and regulations: 34% among those
younger than 30 years old
; 24% for the
30-39 interval
; 17% for those
40 and older
. More respondents from
Africa and the Middle East
, as well as from
Asia
(35% and 36% respectively)
countered technical threats and restrictions themselves
, in comparison to respondents from
Europe, the Americas and Australia
(19% overall). Apparently fewer respondents who belong to
academic, policy or research institutions (16%) campaigned against or reported
threats than the rest, whereas they
stopped their activities
under threat in more cases (36%).
"Someone, a troll perhaps, jumped in [on an online forum]

on gay rights and gay marriage. It was disastrous.

We finally just all logged off and ignored the person."
Note: Multiple-choice (all that apply). Respondents N=365.
Internet regulation
"Government" actors––probably encompassing a variety of national and international state agents, including administrative, legal, and police forces, among many others––are perceived to be the main internet gatekeepers. A great majority of the sample (69%) chose that category when asked 'who are the main actors who decide on policies or take action that make them gatekeepers to online information and spaces that affect your area of work.' That was followed by ISPs (internet service providers) (48%) and social networking companies (47%).
"We are often barred from sharing information on sexuality,

as that is deemed as 'bad manners,' hence we cannot discuss critical issues on abortion,

rape, LGBTI rights and the right to contraception."
More respondents in
Asia
than the rest of the world identified
government
(87%) and
ISPs
(60%) as main internet gatekeepers. Respondents from
Latin America and the Caribbean
gave more weight to
social networking companies
(58%) than the global average (47%). Overall,
anonymous hackers
(8%); and
other users
(7%) were attributed less weight as internet gatekeepers; although the latter doubled in LAC (14%).
Note: Multiple-choice (maximum 3 categories per case). Respondents N=365.
Targets of censorship, regulation, monitoring or filtering
"Our government requested removal of sex education materials

from our web site, due to an anonymous report of 'sexually explicit contents.'"
Overall, sexual morality ranked highest among topics likely to be censored, regulated, monitored or filtered, often associated to the protection of children.
Pedophilia and child pornography
came a top of 77%; followed
by other 'obscene' content
, including pornography and other sexual images (58%). Seemingly 'neutral' categories of sexual content are also subjected to such restrictions; including anything related to words such as 'sex', 'breast', 'penis' (50%); and
anything related to homosexuality, lesbian, gay, or trans
(48%).
"Some parents take up trolling what young people

are saying or doing in our non-profit, and then complain about it in person

and threaten us because that does not agree with their values."
Homosexuality ranked highest as a target of censorship in Africa and the Middle East (57%); and Asia (60%); and lower in Europe, the Americas and Australia (26%); while sexual words ranked higher in Asia (66%); and lower in Europe, the Americas and Australia (21%) than the total average.
Anti-national, anti-government, anti-monarchy material also ranked high, with almost half (49%) responses deeming those expressions likely or very likely to be censored or persecuted. Of the list, that is the only category not related to sexual morality to rank as high, with higher than average frequencies for Africa and the Middle East (57%); Asia (69%); and slightly lower for Latin America and the Caribbean (43%); and Europe, the Americas and Australia (31%).
All other categories listed, while not as highly ranked, were nevertheless deemed likely to be censored or persecuted by a significant amount of respondents. For example contraception and sexist language, the least likely to be targeted, according to respondents, received 75 and 77 mentions (roughly 21% each) respectively.


Note: Sum of respondents who deemed the category 'likely' and 'very likely' to be targeted. Respondents N=365.
Finally, we asked about the reasons given by government for internet regulation. Again, sexual morality, strongly associated to anxieties regarding threats to children, ranked highest. The protection of children averaged 42%; cited most in Europe, the Americas and Australia (62%); and Latin America and the Caribbean (54%). Public decency ranked almost as high, with a 41% total average; highest in Africa and the Middle East (63%), Asia (61%); but lower in Latin America and the Caribbean (30%); and Europe, the Americas and Australia (22%).
"All art & culture media (2 websites, 5

social network accounts and blogs) I worked on were censored and banned for "nudity, blasphemy,

homosexuality and pornography". Behind all this "diabolism" our art, science and cultural

criticism stand. Social networks like Facebook censor our content on a regular basis

for "nudity" and "sexually explicit content". It's hard to work for sex rights if you

need to consider nudity as something offensive,

as hate speech or violence. After being persecuted by the [my country's]

Government Committee for Public Morals Protection and right-wing radicals, my partner

and I were attacked a few times, beaten and pushed to leave our country. We've been

on the road since 2009 and currently based [abroad]."
Significantly,
the protection of women
ranked among the lowest cited reasons for internet regulation (9%), together with
blasphemy
(also 9%);
market regulation
(8%) and reasons
other
than those pre-coded in the questionnaire (8%). All of these come well behind state security, legal, and other cultural reasons (total averages from 19% to 29%).
Anti-terrorist measures and security
ranked higher than average in
Europe, the Americas and Australia
(41%);
and preserving and protecting culture and tradition
ranked higher in
Asia
(43%).
Note: Multiple-choice (maximum 3 categories per case). Respondents N=365.
Moralizing the internet
Sexual morality evidently permeates most forms of state regulation, as well as individual and community concerns regarding online safety and security. The survey confirms this. Many legal, technological, and political (both state- and community-run) internet regulation devices, as well as multiple less formalized everyday practices of protection and (self-)control, are generated by moral anxieties, often of a sexual nature. But while survey results show that activists, researchers, and advocates make extensive use of the internet for their sexual rights work, neither the protective functions of legal and technological internet regulation devices, nor their capacity to obstruct the exercise of sexuality or the promotion of sexual rights, are self-evident to most of them.
While on the one hand our questionnaire assessed respondents' perceptions and experiences regarding online safety; on the other hand it was particularly sensitive to technical and juridical/political forms of regulation, emphasizing security dimensions. It remains a challenge to both activists and analysts trying to figure out how internet regulation works at different levels, and how its tools are appropriated by different constituencies, to bridge the gap between those two aspects when it comes to issues of sexual morality online.
Image by Montuno [CC-BY-SA-2.0], via Wikimedia Commons
---end---
(1) LGBTQI stands for Lesbian, Gay, Bisexual, Transgender, Transsexual, Queer, Questioning and Intersex.

(2) Kee, Jac sm. 2010. Introduction. In: Kee et alii "EROTICS: An exploratory research project into sexuality and the internet". Pp. 1-2. See http://www.apc.org/en/system/files/Erotics_Exec_Summary.pdf

(3) On March 8, 2013, took place the official launch of the survey. Available in nine languages, it sought to expose the difficulties that sexuality rights activists face in developing free and full access to the internet for their work as advocates.