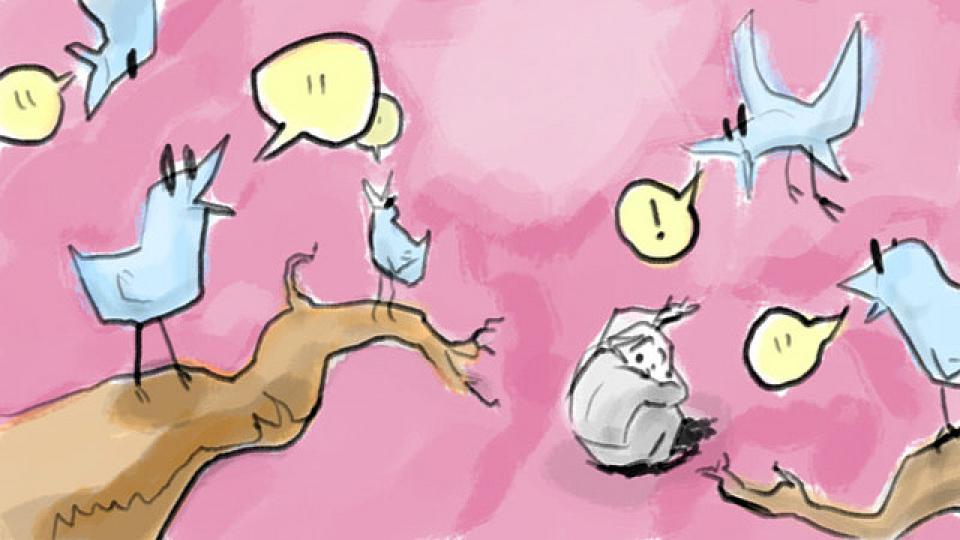 Digital feminist activists have been following closely a campaign to demand clearer and more effective Twitter policies on sexually violent tweets. A number of activists have consistently brought this issue forward following alarming attacks and threats, most recently with Caroline Criado-Perez whose successful campaign to get a woman's face on British bank notes brought about a wave of violent tweets including rape threats. This seems like rather drastic a reaction. All this hate for having Jane Austen's face on a ten pound note? Perhaps the issue is less about the topic at hand and more about the misogyny that we allow to prosper in online spheres and offline spheres alike.
The success story of the recent #FBrape campaign, which resulted Facebook including misogynistic hate speech in their reporting policy, indicates that feminist consciousness of online violence against women (VAW) is on the rise, globally. The Change.org petition asking Twitter to add a "report abuse" button to tweets has surpassed 100,000 supporters and the #shoutingback hashtag has taken off with both supporters and reactionaries. The pertinent question today for feminists and their digital allies becomes, "How are we to build advocacy for internet freedom that includes – in its core – the principle of safer spaces for women and girls? How do we work towards an open internet that we want free of censorship and regulation but also free of misogyny, racism, homophobia, and hate speech?"
The Numbers
A 2006 UN report estimated that 95% of aggression and violence online is targeted at women and girls – mostly from intimate partners or ex-partners. APC's Women's Rights Program has been dedicated to building technical and policy tools to challenge this violence through platforms like Take Back the Tech! and Exploratory Research on Sexuality and ICTs. A recent global monitoring survey showed that 98% of sexual rights activists find the internet crucial to their work and that 51% of them have received violent and threatening messages. The systemic research as well as the individual cases that rise into the public eye make it clear that we have a gender-based violence problem on the internet that cuts across countries and continents.
That this violence is happening online makes it no different than violence and discrimination that happens everywhere everyday. Feminist work over recent decades gives us two frameworks to analyse why this happens. Patriarchy diligently silences women's voices because techie spheres are perceived as masculine and it is common to take sexual attacks on women lightly and frame them as humor.
Regulation as Response
On the flipside, governments and policymakers are attempting to address this violence with more regulation, more surveillance and more censorship to 'protect women and children' and 'preserve morality'. When we look at online VAW as an issue of morality, we fail to see to systems that condone and facilitate this behavior and reduce perpetrators of violence to "trolls" or "monsters" as if they are exceptions and not products of misogynistic culture. Yet we know that sweeping regulation is not the answer and that the vulnerability of women and children is used against us all as an excuse to limit government transparency and accountability. We must respond with solutions that are as complex as the problem.
One important element of this complexity is resorting to law and law-enforcement officials to solve the problem, the age-old philosophy of making an example out of someone to deter others from doing the same or making the price for a violation so high (imprisonment, fines) that the expression of misogyny is subdued. While police interference has worked for some women, it is important to situate legal tools as one option and not the option for fighting violence against women online.
Reliance on the private sector to address the problem, as with Facebook's policy change and Twitter's report abuse button, also treads in murky waters.
While police officials have held social media platforms responsible for the content they host, it is necessary to remember that private companies are inherently reluctant towards any regulation that limits account usage and demands human hours beyond computer algorithms that screen for content in violation of their policy.
Seeking Justice
So what brings about justice? For different survivors of violence, it is different things: sometimes public or private support from peers and friends is what women seek, sometimes validation that this is unfair and unacceptable, sometimes legal action and compensation, and sometimes the more complex action of public naming and shaming. In the same way that the internet has enabled sexism to flourish under guises of anonymity and ease, it has also enabled women to publicize the names (or handles) of the aggressors and encourage other users to shame them. It's understandable that women who often see the systems as failing them resort to naming and shaming in an attempt to speak out against violence – but between this tactic and speaking out is a fine line.
The risks are many. For one, most aggressors thrive on public attention and the opportunity to lash out more hatred at more people, unconfined by norms of netiquette or accountability for their words. And in some patriarchal twists of irony, women may find themselves at risk of defamation lawsuits for naming rapists or harassers online without what most courts see as sufficient evidence. When unsupported or adequately thought-out, a well-intended case of naming and shaming may turn into an online witch-hunt and the emotional burden of engaging in online "wars" leads to significant anxiety, fear, and isolation, without doing much to deter users who are comfortable with online aggression.
But still, it is our task as a digital feminist movement to understand women's choices and strategies without blame and work to enable them with more effective personal and collective tools. It is hard to envision methods that "protect" women and girls online that don't involve regulation. And so it is perhaps wiser to move away from the protection discourse and further into re-envisioning empowerment online. The fact is, misogynistic attacks are going to be around for a long time – just like racist or homophobic attacks – and we must work towards an internet where these attacks have less of an audience and less of an impact. Here are some strategies we've pulled out from years of research and networking meetings with women's rights and internet rights activists in Africa, Latin America, South and South East Asia, as well as conversations at global and regional spaces like the Internet Governance Forums.
Digital Strategies
We need to promote more tech-savvy internet usage for girls. The better mastering one has over internet tools technically and socially, the less daunting the online threats will feel and the more agency women will have in countering them.
We need more feminist solidarity networks online. The global survey on sexual rights activism showed that the younger the respondent, the more likely they are to have campaigned online as a reaction to regulation or violence: 34% among those younger than 30 years old and 24% for the 30-39 interval. Online campaigning works. It fosters support and validation for women, as well as contributes to a culture that rejects misogyny in the long-term.
We need to recognize misogyny and violence against women as hate speech. Feminist organizations like Women, Action, and the Media are working with Facebook to build on the momentum of the #FBrape campaign. And we need to keep pushing social networks like Twitter to clearly articulate their policies on abusive tweets and illegal activity (such as threats of violence) and uphold them transparently.
We need open internet activists and women's rights activists to join forces and advocate for more choices for women: resources, toolkits, and success stories break the barriers against silencing online. In our discussions on theoretical frameworks, we need to continue to think about our relationship with law enforcement and company policies beyond a crime and punishment approach and more towards encouraging stakeholders to play different roles in contributing towards an open and safe internet, bridging the gap between the paradox of hate speech vs. freedom of expression online.
The Twitter policy debate sparked a controversial and heavily-critiqued #twittersilence campaign that encouraged users to boycott Twitter in protest, which is in stark contrast of Audre Lorde's feminist mantra "Your silence will not protect you." Keep the digital feminist campaigns going, report and map violence against women online, and #TakeBackTwitter.
Illustration by Petesimon