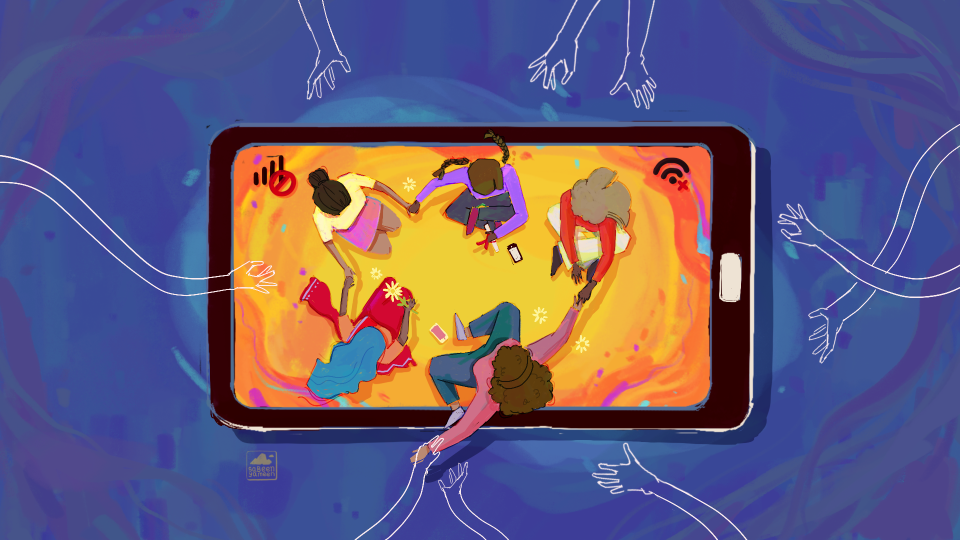 During a field visit in the pandemic, Ashila Dandeniya, managing director of the Sri Lankan organisation, Stand Up Movement Lanka, overheard her colleagues speak about their children's education. A male colleague casually talked about how he bought a new phone for his son for online Zoom classes but didn't buy one for his daughter as it was expensive, Dandeniya shared. "This is very common everywhere in Sri Lanka," Dandeniya said. Parents prioritise their son's education and access to digital tools over the daughters education and digital access – a practice rooted in patriarchal beliefs and customs that demand that sons be given preferential treatment in order to open future opportunities for them.
Everywhere in the world, more men than women use the internet. In some low-income and urban areas, women are 50% less likely to use the internet compared to men. Poor economic conditions, increased work burden and time-poverty hinder women from affording digital technologies while geographical barriers like limited digital infrastructure in rural and historically marginalised regions, and systemic inequalities keep women out of the internet. Women's access to the internet — much like their lives — is also under rigid patriarchal authority. Misogyny and cyber harassment are rampant. Not to forget that the ways in which technologies are made, disseminated and used are controlled by patriarchal systems. This patriarchal control of the online world extends from men on the internet policing a woman's tweets to entirely preventing women from accessing digital devices and spaces, widening an already vast gender digital divide in countries around the region.
A 2018-Guardian article explores that out of the half of those surveyed in New Delhi, India and Manila, Philippines, believe men should be able to restrict women's internet activities. Being offline today means you are not only unable to communicate with your friends or family, but also being cut off from education, income, job opportunities and the space to participate in democratic dialogue. This means that the internet's aim to serve more people by providing access to data and communications is a far-fetched goal for many women. It further deepens the systemic inequalities, pushing women to the margins of the larger socialsphere. 
Abeda Sultana, an Associate Professor at the University of Dhaka, Bangladesh, says in her 2012 paper, 'Patriarchy and Women's Subordination: A Theoretical Analysis,' "Patriarchy, which pre-supposes the natural superiority of male over female, shamelessly upholds women's dependence on, and subordination to, man in all spheres of life." Women are viewed as the subordinated gender, inferior to men in almost every context. This means that in highly patriarchal societies like Sri Lanka, it's common for women to internalise patriarchy and try to control or look down upon other women as they are subjected to the social norms of male domination. Socioeconomic conditions and geographical barriers aside, this deeply embedded patriarchy within all spheres of life in Sri Lanka often governs women's access to the cybersphere.
The internet's aim to serve more people by providing access to data and communications is a far-fetched goal for many women. It further deepens the systemic inequalities, pushing women to the margins of the larger socialsphere.
Meanwhile, this digital gender divide prevents women and young girls from acquiring education, digital skills, information and opportunities that could advance their lives.
A 2018 UNICEF study highlights that while above 67% of boys aged between 11 and 18 had access to the internet in Sri Lanka, only 33% of girls used the internet. About 75% of the late users of the internet are women. This digital gender divide has now resulted in a widening gender gap in the country's tech workforce. As a result women are not only barred from accessing opportunities that would help them improve their own financial situation, but the denial to participate in the workforce also leads them to not be able to contribute to the country's economy.
In Sri Lanka, only about 2% of girls aged 15 would opt to study for tech-based jobs, compared to about 6% of boys. Meanwhile, women only account for less than 30% of the ICT workforce in the country.
Alienation
Nisali* is a 26-year-old middle-class woman living in urban Colombo. She's barred from accessing public spaces unsupervised as well as using a smartphone by both her parents who believe that Nisali will "follow her elder sister's footsteps" and find a romantic partner online, and end up as a single mother out of wedlock. Nisali's sister who lives with her and her parents, was abandoned by her boyfriend when he got her pregnant, and left her to take care of the child alone. Romantic relationships out of wedlock are looked down upon in Sri Lanka's conservative and patriarchal society, and ones that lead to pregnancy are considered a disgrace and are subjected to societal isolation and domestic violence against women at the hands of their own families. So while her sister is being subjected to psychological trauma within her own house, Nisali is bearing the direct brunt of it as well in the form of denial of access to public and online forums.
Without her own mobile phone, Nisali is disconnected from her friends and feels alienated in her social circle. It adds to her disconnect that she feels a sense of isolation because of her family's refusal to allow her access to digital technology that keeps her away from in-trend digital apps. As a young person with a university degree at hand, Nisali says that she had ambitions for her future, but because of something that happened to her sister, she is forced to halt her life for an indefinite period of time.
Where technology and internet access opens doors for opportunities, Nisali is denied this access which also includes access to job opportunities that mostly require submission of online applications. She spends most of her time alone, confined to the four walls of her parents' house, living with the family who does not trust her.
Nisali feels a sense of isolation because of her family's refusal to allow her access to digital technology that keeps her away from in-trend digital apps.
Where Nisali's access to digital technology and platforms primarily depend on the permission from the patriarch of the house – her father; her mother plays an equal role in enabling this control. However, it may be appropriate to assume that just like Nisali herself, her mother does not have the space to challenge the authority of her father who makes decisions in the house of five people.
The lack of access to a smartphone and restricted mobility have made Nisali vulnerable as she now wants to get married to anyone as a way of leaving her confined household. The negotiations and compromises that Sri Lankan women have to make just to experience a basic sense of freedom often include getting married to the first suitor in hopes that they will be able to access things that they have always been denied by their families.
Systematic oppression
25-year-old woman K. Jegawani comes from a low-income community in Hatton in the tea estates of Sri Lanka. Jegwani's community — estate Tamils — are historically marginalised, who were once enslaved by the British colonisers. Poverty-stricken with low wages, much of the community still lives in cramped housing settlements with poor sanitation, and limited access to running water, electricity and healthcare. 
At 18, Jegwani sat for her Advanced Level exams. Every year, a few thousand of the top scorers of these exams are selected for public universities in the country, where they can study undergraduate degrees free of cost. Jegwani had outstanding results, which could get her into one of the best science departments in Sri Lanka. But Jegwani had little to no idea about how to apply for university education online. While her parents had given her brother a phone, they didn't allow Jegwani to use one and denied access to the internet as a result. She had no way of getting information about her university application; the only thing she knew was that she liked biology and wished to do a job in the field. She was not allowed to visit the cyber cafe in her little town that is mostly occupied by men in the area, and missed the opportunity to go to college. Jegwani never studied again.
The denial of access to the internet and technology 7 years ago led to the trajectory of Jegwani's life being completely changed from what she had expected and hoped.
After her father passed away, Jegwani relocated to Colombo for employment in 2017. She received the training to be a nurse in a private hospital in the executive capital. Although the job offered very low pay, she liked the work that she was doing. But despite liking her work and wanting to continue doing it, she could not keep her plan of working when her mother married her off to a man against her will in late 2020. Her now-husband refused to let her work at the hospital, so Jegwani was forced to work as a sewing machine operator at a garment factory where she works long hours for a low wage. 
The potential of digital technologies to open opportunities for her is not unknown for Jegwani, but one that she could never experience herself. The denial of access to the internet and technology 7 years ago led to the trajectory of her life being completely changed from what she had expected and hoped.
Jegwani's experience indicates how historically marginalised women from low-income estate communities with limited infrastructure, who already experience several barriers in accessing education or economic opportunities, are further pushed to the margins by the shackles of patriarchy when it starts controlling the only tool that can enable their access to the world – the internet. By being denied access to it along with digital devices, Jegwani lost the opportunity for higher education. As a result, she could no longer enter the competitive job market that could advance her life. A woman's goals and ambitions and dreams were shattered by the inequalities and power control inherent in the patriarchal systems in Sri Lanka.
A feminist internet
Digital technologies are key to a woman's well-being, and help advance and transform societies as they generate income opportunities, scale up entrepreneurship and let women be the agents of social and economic development. Association for Progressive Communications mentions that "a feminist internet starts with enabling more women and queer persons to enjoy universal, acceptable, affordable, unconditional, open, meaningful and equal access to the internet." It further ensures access to unrestricted data and information, through which women can claim their space in the digital world.
Thus, our effort to combat gender digital divide in Sri Lanka must begin with challenging the existing archaic patriarchal structures controlling our lives. A feminist internet facilitates the amplification of women's voices and shared realities, mobilising women and movement building by connecting them across regions and varied contexts to empower them both socially and economically. Tackling systematic oppression can be a long journey filled with struggles, nonetheless, it could be a rewarding one – one that inspires and empowers women all over the world. 
* Names have been changed to protect identity.