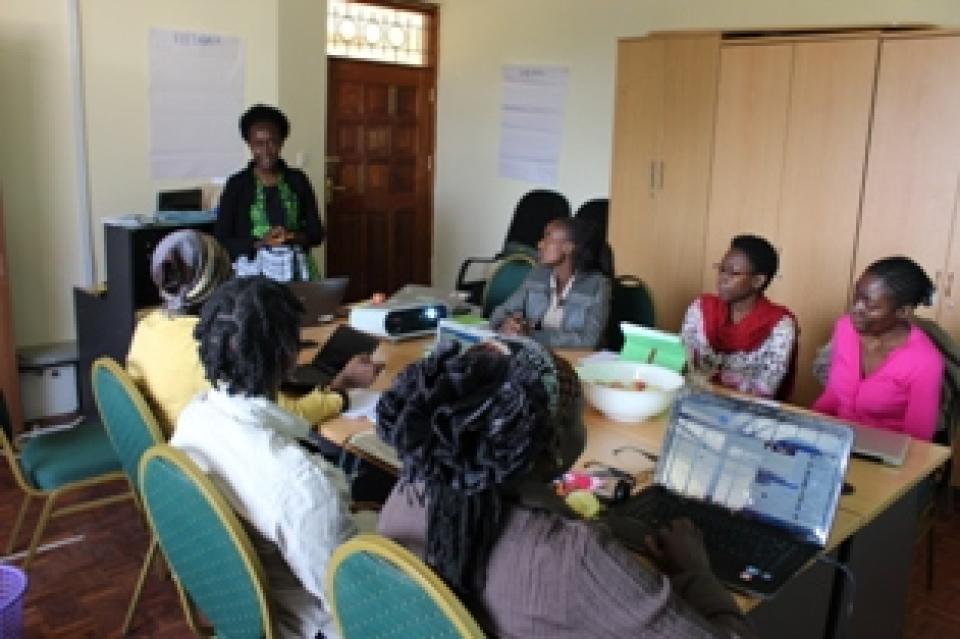 I attended my first workshop on online safety about two years ago. It was a training of trainers session that was organized by the International Association of Women in Radio and Television (IAWRT)-Kenya chapter with the support and facilitation from the Association for Progressive Communications (APC). The sessions were practical. I learned how to protect my passwords, how to surf online in a way that will not have my privacy invaded, how to use the spectrogram exercise to discuss difficult issues, among other things. The most important part was that I was able to learn how to share this information with others, especially women, who were the most vulnerable.
I am the kind of person you will not brand a techie. In the past I was comfortable with just being able to use the internet for basic stuff: to communicate with colleagues, friends and posting my work online to share what I am doing with others. My interest in digital matters, after this workshop, surprised me because for the first time the facilitator (Jennifer Radloff) had explained internet issues at my level of understanding. I left the workshop knowing that I would definitely look for a forum to share some of the information learned sooner rather than later.
A few months after attending the workshop, I organised a digital training where I was able to fashion some sessions to reach out to journalists on how to stay safe online. The information I had with me was fashioned around how to help women stay safe online (based on the materials from the tactical tech website and leaflets). However, only one lady participant turned up while the rest were men (the organization I was working with at the time required that we request the station managers of radio stations to nominate the person they felt would most benefit from the training, so the selection process was out of my hands). As the training had the words digital in its title, meant that it was more or less considered a male domain.
Not to be deterred I decided to appeal to the male emotion by using words like imagine if this was your wife or girlfriend, daughter or sister who was faced with this challenge. The spectrogram exercise was enriching as I was able to draw on the male understanding on issues such as why they wouldn't trust their spouses or girlfriends with their passwords. Their response to the issues was more or less like the women's but with interesting anecdotes. I found common ground with the participants that made me confident that by reaching out to the mainly male participants, the information would be shared with the women that were close to them. The best part about the training though was that online safety tools are applicable to everyone and they too learned how to stay safe online.
Shortly after this training, IAWRT Kenya called me, as a member of the association, to conduct a training on safety online that targeted civil society and media in an area out of the city centre. Here I came across a participant who had faced both online and offline abuse from her partner.
Up to this point all the examples I had of women who had suffered from cyber bullying or cyber crime were from the Kenya ICT Network (KICTANET) 2013 report dubbed Women and Cyber Crime. The other stories I had heard of were from high ranking personalities in the media or the political scene who had faced this problem but all mainly from the city center. I also had a story but mine was the common one that many people faced when someone hacked my email account because I had used the same password for over five years.
Her openly sharing her experiences during the training blended in so well with the training concept. In addition other women in the session started opening up about their stories. All the papers I had carried of case studies from the report were quickly shelved as I sought permission from the participants if we could use their stories for group discussions and coming up with advocacy plans and messages that were coined on their experiences. This training too had men though the percentage was lower compared to the women that attended. This training marked another turning point in my training life on safety online issues as the realisation and importance of the training I was involved in took on a new dimension. Their strength in overcoming public scrutiny in their personal lives and choosing to come to the workshop to be empowered during the training sessions meant that this was not just like any other workshop, it had life saving information.
A few months after this training in 2014, I decided to follow a dream I had been harboring for a couple of years to leave formal employment and start a company where I could conduct training for various groups of people in society. I registered the company – Roshani Consultancy Services – and stepped out into the exciting new world of self employment. A few months into this new venture, IAWRT-Kenya got in touch with me again. This time they wanted someone who would facilitate a half day round-table discussion in a few counties within the country.
The aim of this half day round-table was to bring in key stakeholders in various counties to further discuss the then recently released IAWRT/APC report: Ending Violence-Women's Rights and Safety Online which had many examples of women who had faced cyber crime and cyber bullying in Kenya and what steps they had taken if any when their rights were violated online. This gave the participants an opportunity to discuss the case studies as well as those that were affecting the people. The session would end with participants sharing practical steps that could be undertaken.
One of the key stakeholders who had to be at every round table was the police especially a representative from the gender department. This was as a result of accusations during other training and forums held by the Association that the police were not doing enough (or anything) towards tackling the cyber crime issues. Their involvement at the round table was enlightening. I got to learn a lot about the challenges they face in the process of seeking to prosecute such cases.
As there were county government officials (especially those who are charged with gender issues) at the forums, meaningful conversations were held on how local policies could enhance their work. The academics (especially from the gender departments in universities) and the civil society contributed immensely towards charting the way forward that would work for them. I was so fulfilled at having the privilege of facilitating sessions where the people charted the way forward, focusing on how to own the process of ensuring safety online was available for their women and girls.
A few weeks later after completing the round-table, I received an email that invited people to apply to the Gender Tech Institute. I filled in my application with the hope that I would be selected so that I could go and learn more, especially around advocacy and learn what new things were going on in the digital security world. The institute experience was wonderful. I learned a lot and got so many ideas that I could adapt into training. I made new friends who were passionate about gender and tech matters.
When I got back from the institute I had a discussion with a friend from Kenya who also attended the institute. We discussed ways of bringing our two companies together to collaborate when possible so as to train many more women. As the discussion was still on going the idea of a f3mhack that was formed during the Gender Tech Institute started taking shape. We decided to use this opportunity to work together. The long process of planning started. Along the way Tactical Tech offered to give grants to people from the South to support the f3mhack initiatives. We sent in our idea and got the funding to conduct flash training at the ihub in Nairobi and a public university that was out of town. The latter training (Egerton University) was an initiative that Roshani Consultancy Services had been laying the ground for a while with the institution and so they were receptive to conducting a full day workshop and even extended it by an extra day where we had a round-table conversation that focused more on advocacy based in coming up with practical steps of streamlining gender and tech that would impact the whole student body. Students and lecturers attended the training.
Two months ago, the Association of Media Women in Kenya (AMWIK) got in touch with me and requested that Roshani Consultancy Services conduct training for their members on digital security and advocacy. This was to take place on 1 August, 8 August and 15 August to ensure that the journalists and bloggers who would be willing to attend the training would be available without interruptions. I did not have any funding for this training neither did the Association but we hatched out a plan that eventually worked perfectly.
AMWIK hosted the training at their offices. Luckily only nine participants turned up so the space was just right. They also provided all other workshop materials. Roshani Consultancy Services on the other hand sought to bring in the trainers who would handle various topics based on a pre-training needs assessment, without asking for a facilitator fee. The enthusiasm of the participants, their openly sharing not only their own experience like phishing and also on how they tackle digital security challenges was refreshing. In addition, I was able to test my skills further by asking professionals in the field of digital security, data mining and digital visualization to join me and add flavor to the training. I learned that when one has their passion and priorities in order everything else seems to fall in to place somehow.
The willingness to share safety online for women from the very first training I attended has opened up many opportunities for me to engage with various people in society. I am looking forward to sharing more information with many other institutions and forums that would give me the space. My thirst for knowledge and sharing around digital security and advocacy has just begun.
Image: Recent training conducted by Mary at AMWIK of some of the participants