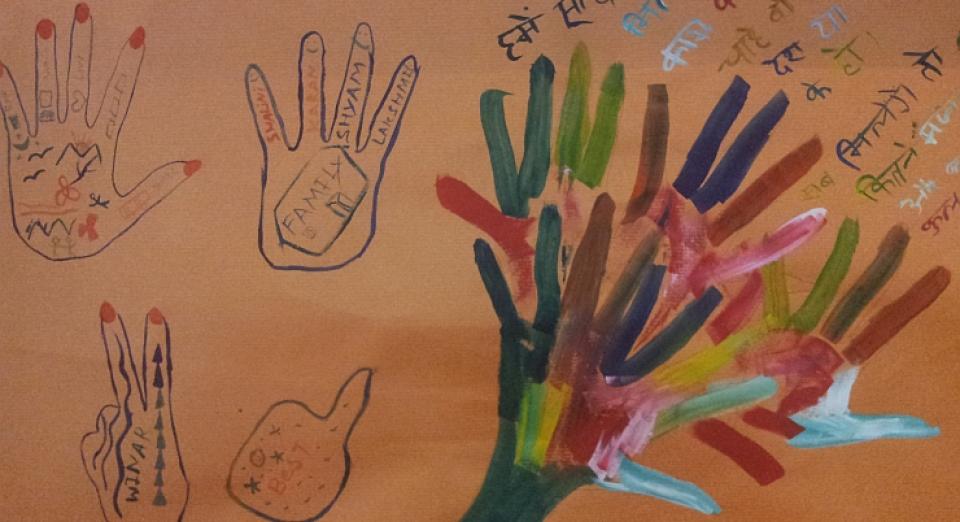 As I walked into the conference room at YMCA, Mumbai to attend the Digital Storytelling Workshop, I realised I was one among fifteen participants who were excited, curious and eager to embark on the five-day journey. I had read the communications and Googled the concepts of digital storytelling, but I wondered how the workshop would help me as an individual and a disability rights advocate. Would five days be too few or too many? But the minute Bishakha Datta from Point of View and the trainers from the Association of Progressive Communications took over, I felt assured of one thing — the five days would be fun and introspective.
The first thing that interested me was the diversity of the cohort. There was a woman journalist from the interiors of Bihar in north India, feminist men working on gender and LGBTQ issues, women belonging to sexual minorities, and women with disabilities, including me. To make the space inclusive for all participants, there was a dedicated translator for the Hindi speaking women, and a visual translator for us blind participants.
The workshop was kickstarted with the screening of digital stories made at earlier workshops. Without realising it, we were all drawn into the lives of people from across the world, from Africa to Pakistan. Stories of sexual assault, gender discrimination, domestic violence, etc. flowed from the screen. We hear stories like those in the news all the time; then why were they special and so telling? The digital storytelling made me experience the pain, the joy, the suffering and the anguish in those lives.
A hand map at digital storytelling workshopThe method of introduction was more effective than a formal introduction in getting us to know each other. We penned down our expectations and what we would bring to the workshop on sheets of paper, which were stuck on a wall. In a hand-mapping exercise, we drew and painted hands on gigantic sheets of paper. We had complete freedom and it was beautiful to experience the creativity and embellishment with which the participants narrated facts and stories from their lives. One participant had lived in four different places by the age of 25, one had experienced "othering" by society, and one had experienced her mother's love, her father's resistance and the objections of her community.
Then we were told to start writing our scripts that night. I again wondered how it would be possible so early in the workshop to write one story that I wanted to tell. This was answered by a dice game. In groups of three, we picked three picture dices and strung together the pictures to create a story. Each group came up with different kinds of stories — some real, some imaginative, some representative, but every story had a meaning and an important moment or emotion to convey. That cleared the haze a little on what to tell in the story.
The question of how to tell the story remained. We were divided into two groups for another game, Pictionary. It was hilarious because all of us had a hard time identifying some sketches, for example, when someone had to draw the word "online sex" she couldn't draw it, and we couldn't guess the word. In a funny way, it got us thinking about associations and representations rather than physical images of what we were trying to convey.
With our heads full of the lessons, we started writing our stories. I had so much and so little to tell all at once that serious confusion gripped me. Then, I simply typed out my thoughts and allowed them to speak with me. One story which was the most persistent was something I had thought of but never consciously looked at as a larger issue. My work is primarily in the areas of disability and sexuality and I regularly speak out about the impact that disability has on romantic relationships. So the obvious choice was to write about my personal experience in the romance department as a disabled woman. But somehow, the atmosphere encouraged me to delve deeper and my strongest thought was the impact that my disability has on the matrimonial prospects of my non-disabled sibling. That evening I swiftly proceeded to giving words to my thoughts.
Day two of the workshop was hallmarked by the story circle, in which we all literally sat in a circle to share our stories. Figuratively, we allowed each other a peep into our lives. We didn't care if someone found our personal stories funny, weird, or embarrassing, and it is no surprise that no one did. Everyone was sensitive and interested. I then realised that not everyone is comfortable sharing stories from their lives. A participant narrated her story as if it happened to another woman, another brought out her experience as a general societal issue. I believe the story circle bonded us and made a connection at a different level where our understanding and encouragement gently pushed each other to be honest with our lives and our stories.
Once we had our final scripts on day three, we were trained to use various open source software for sound editing and photo editing. The trainers also provided feedback about the scripts to us individually, so that we could move on to record our audios. What a day it was! The search for a quiet room, the effort to read the script seamlessly and with full emotion, and of course the takes and retakes! To add a layer of challenge were the sounds of hammering and the sawing; the YMCA was under renovation. Once we managed the task of recording, the trainers were constantly around to help us clean up our audio files and to add the appropriate elements of sound effects and music. My story's audio was done thanks to them as the editing software was not accessible with my screen reader.
Day four was all about pictures. To get the wheels of our creativity spinning, we had a little exercise. We were shown a series of pictures and we were asked to write down the feeling it inspired within us. It was amazing how one inanimate still picture meant so much for different people. We saw the picture of a tea pot on the shelf and one participant instantly cried "guests!" Another said, "Mamma!" A third said, "hot snacks". This exercise was to help us look for pictures which would tell our story. It wasn't necessary to shoot the photos. We were told about pictures easily available under Creative Commons licenses. We were shown how beautifully hand-painted or sketched images worked in a digital story. Sketched images were impossible for me because I am visually impaired, but the trainers would have none of that. I told them my ideas and they generously drew them for me.
The final day arrived in the blink of an eye and we got ready to combine the story, the audio and the images. We were trained to use Windows MovieMaker (iMovie for those with Apple devices) and the marathon began. Many of us were apprehensive that we won't be able to finish our stories; the atmosphere was tense, rushed and silent. But by evening all films were ready for screening. We applauded as we heard the stories again. I internalised one fact that I had heard the stories in person, but allowing the stories to flow in a digital storytelling (DST) format was impacting me all over again and stronger every time.
The workshop was a beautiful and worthwhile experience for me in a multitude of ways. I learnt the craft and impact of DST. I am sure that this would work effectively in narrating the tales of women with disabilities and flagging and changing the societal issues sensitively through personal narratives.
But the workshop did not end with the intellectual and emotional lessons. The group celebrated by converting the workshop room into a dance floor and then merrily proceeded to knock off a few drinks and enjoy a sumptuous traditional Indian thali dinner.
Photo Credits: Jennifer Radloff