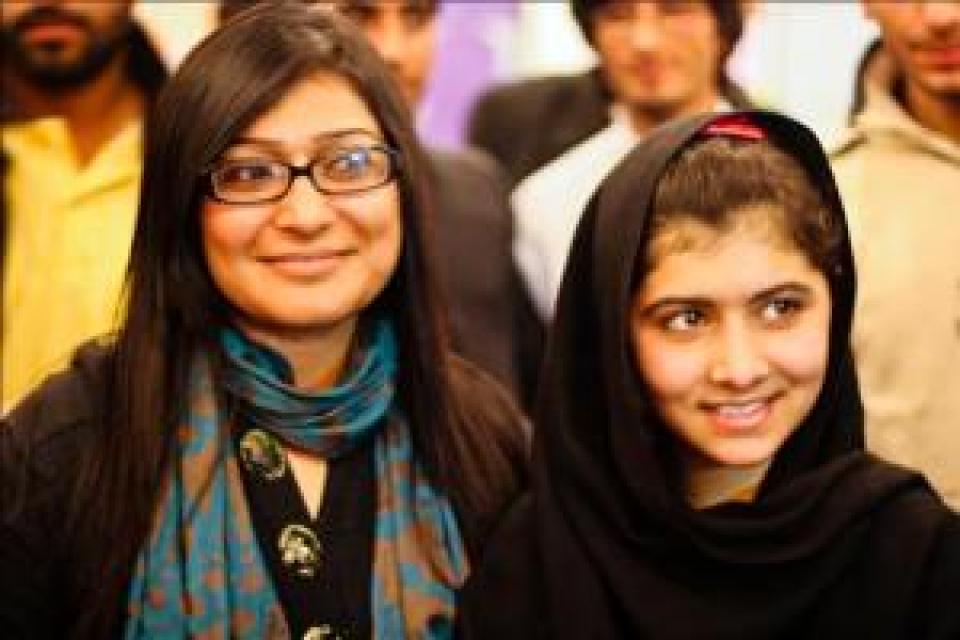 An exceedingly sad, insensate and astounded feeling comes to mind while writing this piece about an innocent 14 year-old activist Malala Yousafzai shot in Swat, Pakistan earlier today. This young girl who exemplifies active participation in the Take Back the Tech! campaign in Pakistan.
Across the globe, countless women and human rights defenders risk harassment, torture, family kidnapping and even death threats. Women activists keep breaking cultural taboos and make efforts to lead an exemplary life – not only so their own lives can be better, but also to help other women have an independent and inspiring life.
Malala, our young activist was attacked while she was going home from school with other girls in a school van in the country's northwest, a region of the country that is known for its political unrest. The unknown assailants shot several bullets to her vehicle, injuring her and the other two school girls. Malala received two bullets to the head and neck, and is currently in critical condition in a hospital in Peshawar.
She started receiving death threats soon after her identity went public as the author of the BBC's Diary of a Pakistani schoolgirl, in which she denounced the atrocities that took place during Taliban rule under the pen name Gul Makai. In March 2012, shortly after Tehrik-e-Taliban Pakistan (TTP) announced that she, and another social worker (Shad Beghum) where on the militant's hit list, she was provided with unarmed security by her school.
Hailing from Mingora Swat, this 14 year-old girl fought to restore peace and promote girls'education in Swat during the stronghold of Taliban in 2008. She was awarded National Peace Award by the former Prime Minister Yusuf Raza Gillani for her outstanding and ardent efforts under extremely hostile conditions. She was also bestowed with Sitara-e-Jurrat by the Government of Pakistan acknowledging her courageous services to promote peace. She was the first Pakistani to be nominated for the International Children's Peace Prize by children's advocacy group Kids Rights Foundation.
Like many other girls, Malala is a victim of the ban imposed by Taliban on girls' education during their stronghold of Swat in 2008. The teenager kept encouraging her fellow students to continue with their schoolwork despite of militants' threats before the Pakistan Military launched an operation and flushed out the militants.
The attack on a children rights activist is an unmistakable indication that the Taliban is not a group that is willing to negotiate girls' education and women's rights.
It is not the first case of attacking human rights defenders (and particularly women's rights activists) in Pakistan. The famous Human Rights Commission of Pakistan has been getting such threats for years. The daring lawyer, Asma Jahangir, is also one of the many who keep receiving threats from miscreants. Adding to this, women's rights defender Farida Afridi was ambushed and shot dead outside her house on 4th July in Hayatabad, in the tribal agency of Khyber.
Be it in Pakistan or Afghanistan, the efforts and contributions of these activists has been under constant attack by the Taliban. The need of the hour is for the international community to force the State to be responsible and take appropriate measures to protect women and children rights defenders in hostile regions. Activists' spirit will not wear falter from such attacks, but it will surely affect the peace process in the region.
It is the State's responsibility to take the activists along the road of peace and make policies, programmes in a closer collaboration and consultation with the human rights defenders. They are the ones who are suffering and helping the victims and survivors on the ground. Designing policies in conflict zones will only be successful and bear long term fruits, when governments take women human rights defenders together in the peace process.
Photo: Malala Yousafzai is also a strong advocate for communication rights and is a keen supporter and promoter of APC's local Take Back the Tech! Campaign in Pakistan after attending workshops in Swat and Peshawar.