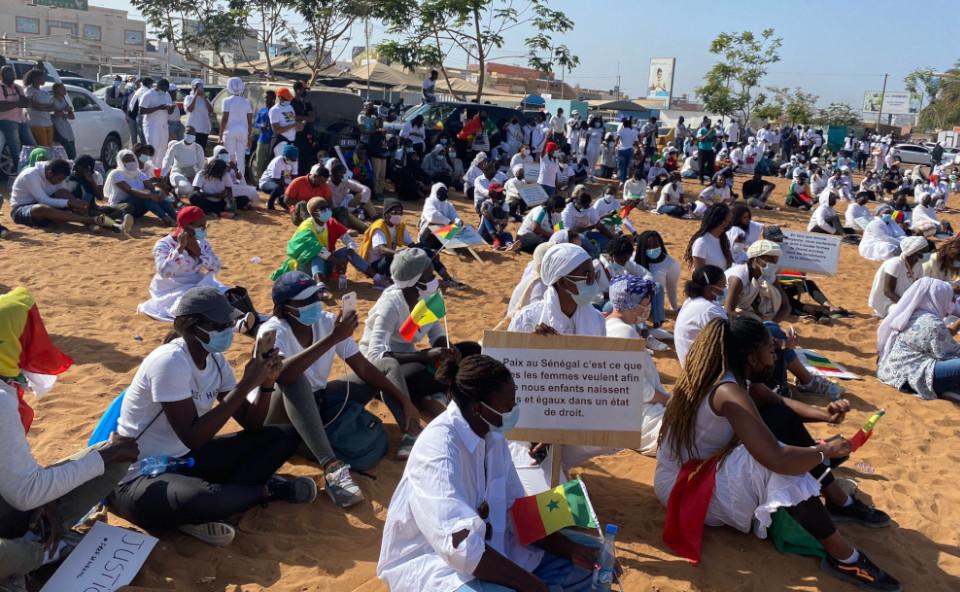 On International Women's 2021, as Senegalese youth protested against an autocratic government, they also trended "Happy women's day to everyone except Adji Sarr". In February, a woman accused Ousmane Sonko of rape and since then has been exposed to victim-blaming, threats, cyberharassment, and gaslighting - of which the accused himself participated in by denying the accusation and accusing the president of Senegal of framing him. The incidents that followed are emblematic of the culture of rape and violence against women in Senegambia. I remember saying that in a country where rape allegations are often socially and legally dismissed, the state is so involved in this one. I realised then how dismissive of Adji's story that statement was and that, instead of affirming that Adji Sarr deserves justice to a trial and for everyone to believe her story, I was also politicising the issue. These words by Dr. Rama Dieng reminded me of how important it was that I had not commented right away: "For me, it has always been crucial to take a step back, to resist the temptation to react quickly, to give ideas the necessary time to mature, and meticulous investigation and analysis of the facts to take place". My first tweet analysing this was that the narrative being told by local media and protesters largely left out an important aspect of what happened; it simply did not include Adji Sarr.
It seemed as if a rape allegation was not enough to get people out on the streets, and so a much deeper and general cause is needed to be that outraged. In the beginning, #FreeSenegal protestors clarified that the protests were not about the rape allegations, and that #FreeSenegal was about resistance against Macky Sall's autocratic and oppressive regime, which was supposedly a bigger cause than demanding justice for a sexual violence victim. While the difference on fighting for democratic justice and justice for a rape victim was distinguished, the women's rights defendants and Sonko supporters co-existed in these separate issues in the early stages of the protests. The political intentions might be good, but it is impossible to separate intentions from what really is happening – and that is we have failed to believe a woman and her story has become disposable because our anti-government fight precedes justice for women.
…we have failed to believe a woman and her story has become disposable because our anti-government fight precedes justice for women.
While I do understand the intersectionality of oppression and how movements can transcend one single cause, I still choose to believe a woman who said she was raped; without politicizing and amplifying people that can harm her and potentially other victims of sexual violence. Ndeye Debo Seck, a Senegalese feminist said to me "Oh the protest would have happened whatever the reason. People are exhausted, frustrated, and hungry for food and better days. As for Adji Sarr, I am heartbroken. I believe we could have avoided this if we had a culture of listening to women and valuing their voices." The first protests that happened after Adji Sarr spoke up were not in solidarity with her, but rather for Sonko on his attempted arrest for the rape charge. The outcome of these protests, and of the case if it proceeds to court, will have lasting effects on the work that feminists and women rights organizations do. As Nadia put it: "A young woman, Adji Sarr, dared to say – 'he raped me'. And may we remember enough to say she too deserves to be heard. She deserves protection; she deserves due process." The social and legal consequences of young people dying and of the reputation of service providers in the beauty and care industry will be consequential in believing victims that speak up.
How do we even ask women to come out, when they are now more fully aware of the risks and violence – both online and offline – that would follow? In all of this, as feminists and activists in Senegal and the region, we should examine how this incident will set back the fight against the silencing of victims and the culture of sexual violence in our highly religious, highly patriarchal, and awfully pro-moral communities. Our movement building and organizing should always center women.
How do we even ask women to come out, when they are now more fully aware of the risks and violence – both online and offline – that would follow?
Media representation of women in conversations of sexual violence
The stories we tell the larger world should be unbiased and free from the erasure of any group that is demanding their rights alongside anti-government protests. As those protesting the government face bias in local media and internet shutdowns, protesters now turn to international media or demand celebrities to amplify movements. Ndeye Debo Seck shares her concern about the stories of sexual violence that are not being listened. "On the first day of protest, some people reported that women were raped in Dakar and again the 'not all men' crew hurried with questions and denied something which did not happen to them. Yesterday [March 9th] the rape of four women was reported in a hotel in Thies. Nothing at all indicates that there have not been other cases happening somewhere else in such a climate". As the protests and the case progressed, and more controversies started to unfold, protestors started prioritising which movement to focus on. And that movement was not Adji Sarr's. The extent to which the patriarchy harms and exposes these women to violence happens in multiple stages and the lack of support in all of them reshapes how we speak up about and process the trauma of sexual violence. Should we demand their freedom after we #FreeSenegal from Macky Sall's regime? To me, this affirms that women are second-class citizens, and the conversations on discrimination that women face are always secondary in global and national politics and discourses – even when they are state-imposed and undemocratic.
In October 2019 the TRRC sessions in The Gambia were dedicated to victims of sexual violence of the Yahya Jammeh regime. Public reactions to the testimonies of particularly two women were different from the solidarity shown and news reports made on the other witnesses. For Toufah Jallow, the hyper-sexualised perception of her by Gambians invalidated her story; because she was a beauty queen (who participated and won the President's yearly beauty pageant), it was impossible for her to have been raped or assaulted. And this by a man who – the TRRC testimonies showed going by societal standards of what is good and bad – had committed more heinous crimes than rape. Bintou Nyabally experienced erasure of her story by the media because, during her testimony, she mentioned a statement that may have challenged the masculinity of the current president, Adama Barrow. A Gambian media company known for misrepresenting women in their stories, published a report on Bintou's testimony with the headline "Bintou Nyabally Claims Barrow Ran And Hid When Soldiers Attempted To Enter Darboe's Compound". Following this, Gambians made jokes about the president under this story and on Facebook. Incidents of Nyabally's rape and assault were not part of any of the conversations. Bintou also faced harassment and was targeted for gender-based violence. Toufah was brave enough to take up space and center herself in the conversation by leading the #IAmToufah protest and campaign against rape culture in The Gambia; Adji Sarr cannot. In April 2021, she went on Youtube to give a press conference narrating what had happened to her. The now deleted video also led to more backlash and victim blaming and she has become the face of a government plot aimed at bringing down and eventually jailing the president's biggest opponent with help of a rigged justice system.
Movements across the region deliberately erase women and LGBTQ persons
Women have contributed immensely to revolutions around the globe, but are rarely centered. While we may have achieved progress in representation and documentation of revolutionary women, there is still a problem in our movements of who and what gets included or deserves urgent attention.
In 2020, young Nigerians demanded an end to a government security unit that targeted them for harassment, rape, and abuse. While LGBTQ Nigerians were protesting, they were also getting harassed by protesters. This is appalling, but not surprising because queer Nigerians have constantly been targeted for threats and assault by civilians and the police. One of the queer protesters whose video went viral on Twitter received homophobic attacks and was also arrested for being perceived as gay. The #EndSARS protesters made it very clear that the end to police brutality was not for queer Nigerians. As the protests progressed, some had to take a step back for their safety, while Feminist Coalition – a women-led organization that led the protest mobilization – had to put out a statement about the non-alignment of the movement with LGBTQ. This was a response to their tweet saying that #EndSARS was also for homosexuals and transgender and to debunk the comments that the organization's logo represented LGBTQ.
Women have contributed immensely to revolutions around the globe, but are rarely centered.
After days of protests in Senegal, the President finally spoke where he showed more concern for the destruction of property than the lives of young Senegalese. The next day, in a now-deleted tweet, someone made a tweet that described Macky Sall's badge on the suit he wore when he gave the statement as the HeForShe logo. The conclusion was that the president indirectly declared his support for and plans to decriminalise LGBTQ in Senegal. Though HeForShe is a movement to support gender equality by men, it still did not matter because #FreeSenegal was only for straight, cis men and the issues most important to them, and they had to make this clear. The queerphobia that was depicted that day was in no way related to the demands of the protests. But because women and queer people are often used as weapons to attack or delgitimase global discourses, especially where heterosexual norms are involved, decentrering women also equates to decentering another marginalised group, in this case LGBTQ+ people in Senegal.
Journey of an African Colony, a Netflix documentary released in October 2020 in celebration of Nigeria's independence, starts by interviewing two women who witnessed independence, which was itself different from the usual representation of men as the face of colonial resistance in West Africa. The Aba Market Women's march and stories of women's resistance to colonial power were also highlighted. Each year when The Gambia celebrates independence day, institutions hail the founding fathers of independence along with an image that has a woman in it. Each year, no one recognises the many women that were in the fight or that the picture has a woman in it. The struggle for freedom has been associated with men, and this erasure through language, history, and media representation continues to happen until today. Feminists such as Judicaelle and the recently established Document Women movement share and document African women who have contributed to socio-political revolutions in the past. In March, Judicaelle highlighted African women who fought for the rights and freedom of girls under #KnowYourAncestors in celebration of women's month. The constant narrative of men liberating the world from oppression and tyranny is harmful and it is what we saw with the #FreeSenegal movement.
The constant narrative of men liberating the world from oppression and tyranny is harmful and it is what we saw with the #FreeSenegal movement.
After days of well-coordinated protests, the protesters curated a website for #FreeSenegal which includes seven demands by the people to the government of Macky Sall. "The demands of the people'' is a list I am presuming reflects what the people protesting want, but nothing on it represents the women fighting and mobilising. There was no mention of support or justice for Adji Sarr. This silent exclusion is loud as women have been leading the organization and mobilisation of resources for the protests including legal aid, food, and support to families of the killed protesters. They have also constantly provided tips, translated tweets for the Anglo-Franco community, organised discussions, and gave updates about the protests on Clubhouse. If the protests in Senegal turned out revolutionary or led to change, Adji Sarr's story and the many women who held the protests together would not have been documented as part of that history.
Nonetheless, even if this is an individual and unpopular case that does not end in favour of the victim, it still holds a symbolic power and interpretation of state and political reactions towards women and gender-based violence as a whole. Why aren't more protests demanding a free and just trial rather than asking for the release of an alleged rapist – with other political prisoners as well? Why are we not demanding an end to rape culture and the politicisation of women's bodies and stories by men in politics? I think it's time that someone starts this conversation and asks these questions within the movement.