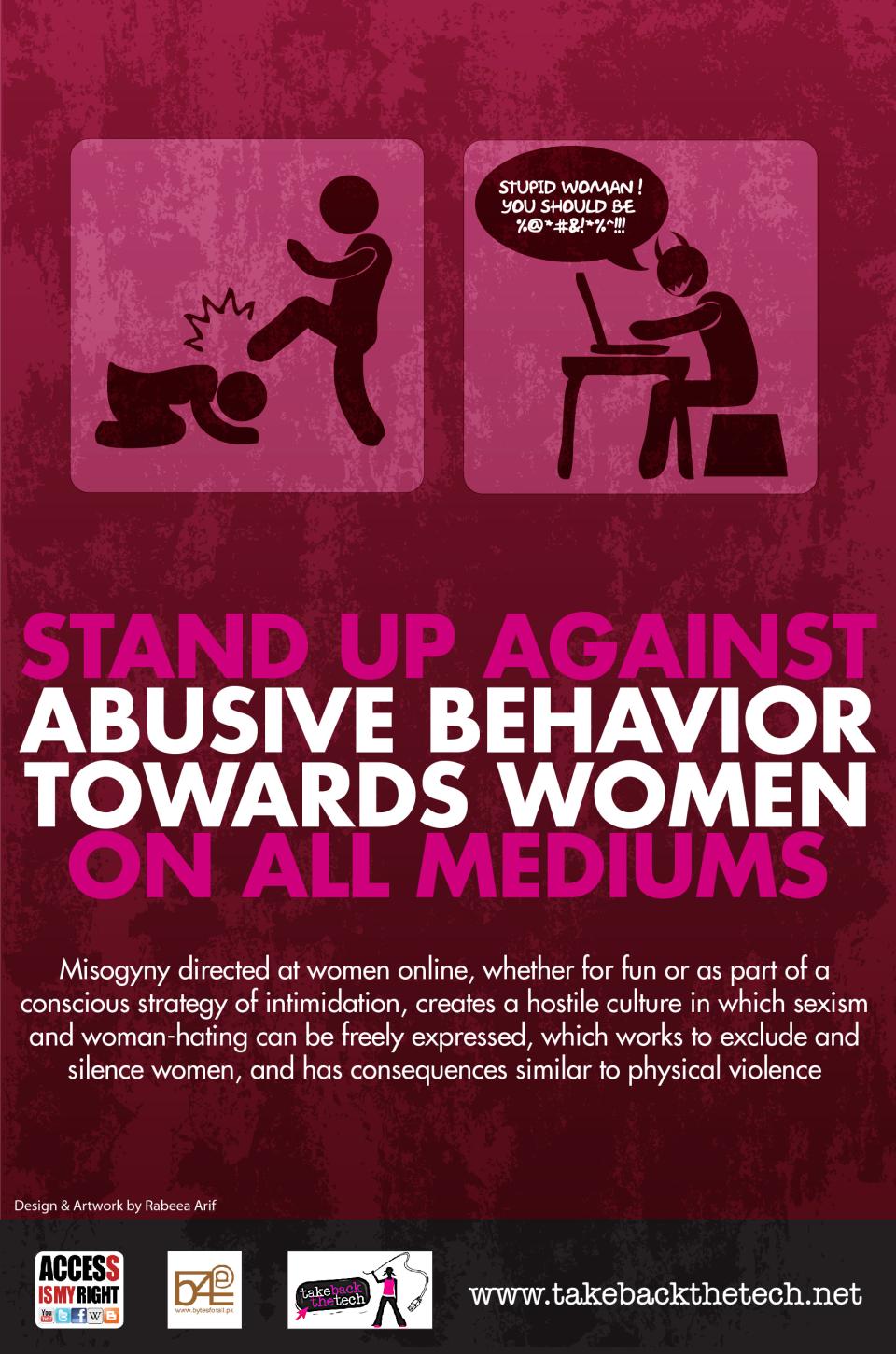 It seems true that when women occupy spaces that have somehow been deemed 'masculine', they are in for harassment. This also true of the online world where anonymity protects perpetrators of violence and makes it incredibly difficult to hold them accountable. Ghausia Rashid Salam stated,
"Any woman who is feminist and who has worked for women's rights will find herself regularly abused by these men [misogynists]." (1)
These threats go beyond criticism of the opinions voiced by women bloggers, writers and online activists. They are aimed at the women themselves. In a 2006 University of Maryland study on chat rooms, it was found that online users whose names appeared female received twenty-five times more sexually explicit and malicious messages than men. (2) In some instances, images and games inviting violence against women have been created. (3) In my own experience, Twitter has been a site where users can invite violence, with little or no recourse. (4) Jessica Valenti, of the popular feminist website, Feministing, had the following to say,
"Most disturbing is how accepted this is. When women are harassed on the street, it is considered inappropriate. Online, though, sexual harassment is not only tolerated – it's often lauded. Blog threads or forums where women are attached attract hundreds of comments, and their traffic rates rocket." (5)
In fact, some women do not reveal the extent of the harassment they face because they fear it will encourage further violence online. (6) The result is that women silence themselves, exit the spaces, or censor their arguments in anticipation of the vitriol they might receive. Women lose their opportunity to exercise free speech.
Unfortunately, much of the messaging around online violence has followed the same thought processes of messages directed at women relating to sexual violence. We hear a lot about 'protect yourself' and 'keep safe online', instead of 'don't harass women bloggers'. Women are encouraged to keep their messages and interactions safe, to password protect their profiles, to ensure they exercise maximum security. Yet, the real problem is that this does not target those who are creating violence online in the first place, and places the burden of being free from violence on women.
One campaign that bears noting is the Take Back the Tech! campaign run by the Association for Progressive Communications. It encourages proactive empowering messages for women including 'I don't forward violence'. (7) The aim here is to increase women's voices and stories in the media, and to provide them with a resource on how to use ICTs safely. They have an emphasis on communication as a right, not a privilege.
"Information and communication rights are essential preconditions for women to fully exercise their civil and political rights as citizens – in particular their rights to organise, network, make their knowledge and ideas visible and ensure that legislation and public policy in all relevant areas delivers gender justice. Communication rights include not only the freedom of opinion and expression, but also encompass areas such as the right to information, privacy, democratic governance, participation in culture, language, creativity, education, peaceful assembly and self-determination." (8)
Different women react to online harassment in different ways. It is essential that we respect women's decisions to withdraw from the online domain, particularly when there are threats of physical violence offline. However, this does not mean that all women should be silenced. Below I provide two examples of strategies that have been effective in my own activism against violence against women online.
First I speak from my own experience of being harassed. In August 2012 I wrote an article describing the online dating site, Cumtree.co.za, as sexist and inciting violence against women. Shortly after the article was published I began to receive a number of tweets regarding my relationship status, sexuality, and sexual preference. When I responded with logic and critical thinking, Cumtree's social media manager took the response to the next level, and changed their twitter bio to "@Jen_Thorpe hates wearing bra's (sic). Get in touch with her and let her know what you want to do to her…" This was a clear step from insulting me, to inciting violence against me.
Thankfully their users had more sense than them. What turned this experience of online harassment around was the fact that I used the platform they had chosen to generate negative publicity for them. I retweeted all of the insults they were posting, and as a result rallied the support of many users online who soon began to tell Cumtree that what they were doing was not only ignorant, sexist, and boring, but also a violation of my rights. Within only a few hours Cumtree had removed their comments, and their twitter account. The support of other twitter users not only made me feel supported, but also resulted in the removal of a violent profile from the online world. (9) This example shows how valuable the support of other online users can be in targeting violent personalities or profiles online, and ensuring that they do not feel that they cannot be held accountable.
The second thing I think is critical is the provision of safe spaces for women to share their stories and opinions online. For this reason I have created two such spaces – The My First Time project and FeministsSA.com . The My First Time (10) project invites women to share experiences of their significant first time experiences. Stories are submitted to me anonymously via email, and are posted online within one week. All comments are moderated, so the space does not allow harassment, negative feedback or trolling. It creates a safe space for women to share their experiences, and emboldens women to tell their stories. There are 238 stories on the site as of December 2012, which shows the interest in telling women's stories, and the site has had over 400 000 views which shows the interest in reading women's stories.
The second platform, FeministsSA.com (11), aims to provide a space for women to engage critically with issues relating to feminism, including but not exclusive to violence against women. This space allows women to present arguments online, without the fear that they will be attacked because of their identities, sexual preferences, or looks. In this way, women are provided an opportunity to speak without fear, and a space where their opinions are recognised as legitimate.
Essentially, keeping women in online spaces requires that they both stand up to online harassment and violence, and keep writing. Safe spaces to engage online, as well as resources on internet safety like those available via Take Back the Tech! are critical to ensure that this is a possibility. Another key element is the sensible moderation of comments on platforms to ensure that women are not harassed, threatened, or objectified. Many women who write online have faced harassment. The development of law and policy that enables this moderation, and the accountability of those who make threats as in the offline world, are also important.
—- end —-
Image by Bytes for All from Pakistan produced for the Take Back the Tech! campaign.